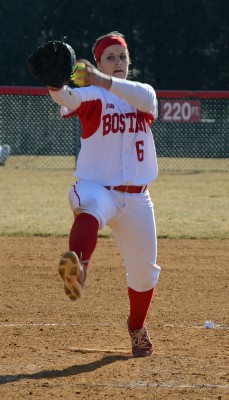 Dominant pitching performances ruled the weekend as the Boston University softball team recorded its first Patriot League series win against Bucknell University.
The Terriers (14-20, 2-4 Patriot League) split Saturday's doubleheader against the Bison (22-18, 7-5 Patriot League), winning game one 8-0 in five innings, while losing 5-1 in game two. BU squeaked by in Sunday's rubber game with a 2-1 victory.
Senior pitcher Melanie Russell was in the circle for the Terriers Saturday and was dominant throughout her two starts. On the back of nine hits from the Terrier lineup, Russell bulldozed a Bison offense that has the third-best batting average in the Patriot League. She allowed just two hits and struck out eight in a game that was cut short due to the run rule.
"[Russell] did great," senior pitcher Lauren Hynes said. "She set the tone starting in the first game. We knew we were going to ride her the second game and try to get two wins out of it. Unfortunately, that didn't work out, but she still pitched great."
Wielding the hot bats for BU in game one were sophomore center fielder Jilee Schanda, who went 2-for-3 with two RBIs, and sophomore right fielder Emma Wong, who also went 2-for-3 and drove in three runs.
Russell continued her dominance deep into game two by not allowing a run until the sixth inning, when shortstop Anna Gimmestad put one over the fence to tie the game at one. Bucknell plated four more in the seventh inning and pulled out a victory.
Despite the Terriers' loss in game two, Russell came away from the series with 16 strikeouts in nearly 12 combined innings of work.
Hynes dominated the mound Sunday, and it was just enough to come away with a win when matched against pitcher Amanda Fazio.
Between the two hurlers, only one hit was surrendered in the first three innings. In the fourth inning, however, Fazio came around to score off Jacee Almond's single, giving the Bison a 1-0 lead.
The Terriers' bats had ample chances of their own in the fourth and fifth innings, but they were unable to drive runs in. They came close in the fifth, but sophomore Yinka Fasehun, who pinch ran for freshman first baseman Alex Heinen, was tagged out on an inning-ending double play at the plate.
After two innings of falling short, BU plated two runs in the sixth inning. Schanda came up with the big hit again, sending it to right field to tie the game. Junior catcher Gabi Martinez followed by bringing another runner in from third base with a sacrifice fly down the right field line. Those two runs were all Hynes needed to finish the game and wrap up the series for the Terriers.
BU head coach Ashley Waters said the key to winning against someone such as Fazio is to not overestimate her.
"That's exactly what I told Jilee in her last at bat," Waters said. "I just said, 'Jilee, you're great when you're just hitting ground balls, when you just get to the ball.' It's almost like they want to do something bigger when no one's doing anything."
Schanda now has 10 RBIs in 97 at-bats, while Martinez has remained hot at the plate and is now batting .250 on the year through 23 hits.
"When Gabi's up, I have so much confidence in her as a hitter," Hynes said. "I know she's going to score some runs or make something happen. She has the power, but in that case, just put the ball in play and it worked out for us."
Overall, Waters said this weekend's series victory was "huge" and will serve as a building block for the pitching staff.
"It's a nice turning point for both pitchers," Waters said. "[They're] feeling good about themselves, and I think for the team, it's a nice confidence boost knowing that we're going in the right direction and that they're peaking at the right time. Any time you're shutting offenses down and they're scoring less than three runs, we're in a good spot because I think our offense can always score."