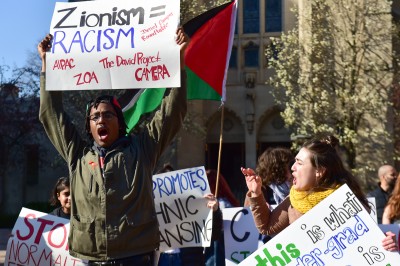 Approximately 30 members of Boston Students for Justice in Palestine protested the Israel Indie Freedom Fest Sunday afternoon. The celebration was held by Boston University Hillel and BU Students for Israel at the BU Beach as a part of Israel Peace Week.
The protest started at approximately 3:30 p.m. and ended around 5 p.m., and it took place at the BU Beach and Marsh Plaza. Protesters chanted slogans and carried banners that criticized Israel and actions related to Israel Independence Day.  
"Viva, viva Palestina!" protesters chanted. "Free, free Palestine! No more war crimes!"
As the protest was underway, festival attendees were gathering in the midst of DJ song mixes, sprinkles of color powder and even a visit from a camel. Protesters, however, kept chanting as "HaTikvah," the Israel national anthem, played.
"Resistance is justified when people are occupied," the protesters chanted by Marsh Plaza while hoisting banners that read "1948: One Nation's Independence, Another's Catastrophe" and "Free Palestine. Free Gaza. End the Occupation Now."
Ibraheem Samirah, a member of the BU SJP and one of the protesters, said the celebration used "fun things to cover up very horrible, terrible crimes against humanity," and he claimed that the festival is offensive to Palestinians.
"They are blindly supporting Israel, so we came to expose that reality," Samirah, a third-year doctoral student at the Henry M. Goldman School of Dental Medicine, said following the protest. "On top of that, we came to expose the reality internationally for the Palestinian people living under occupation, as related to us here at BU."
Samirah said he was one of the students who were removed from the BU Hillel gathering "All Students, All Israel Think Tank" on Jan. 28, and the incident partially led to the protest.
"The university has remained quiet up until now," Samirah said after the protest. "We are going through the Equal Opportunity Office right now — they're investigating the discrimination case. It's been ongoing, [and] we expect the results to come out soon."
Amid the protests, BU Hillel Director of Student Life Ethan Sobel said the Israeli community was celebrating its independence and is rejoicing.
"It's a great turnout — we have camels, food," Sobel said at the event. "People are excited with what we're doing. The beautiful part of being in America is that there are so many things going on campus. There [are] opinions from all sides. People are allowed to voice their opinions and discussions, and we're here celebrating Israel Independence Day."
Passing by the protesters in front of Marsh Plaza, Jake Bloomfeld, a freshman in the College of Arts and Sciences, said he was perplexed by the ongoing chants and hoisted banners.
"I honestly don't even know [about the conflicts]," he said. "I really don't understand what's going on."
Members of the protest provided The Daily Free Press with a pamphlet entitled "Is Boston University Hillel Islamophobic?" which claims that BU Hillel backs Islamophobic beliefs.
"One of several prime examples of BU Hillel's Islamophobic connection is vis a vis … [Committee for Accuracy on Middle East Reporting], a known Islamophobic organization … that plans events through [BU's] campus," the pamphlet stated, citing a report by the Council on American-Islamic Relations.
Taking cognizance of BU Hillel's connection to CAMERA, Samirah said the Israel Indie Festival is embedded with Islamophobia and covers up the Palestinian people's struggles.
"We came to this event because it exposes that reality, particularly with its co-sponsors," Samirah said. "We will protest every single time they do an event of this nature."