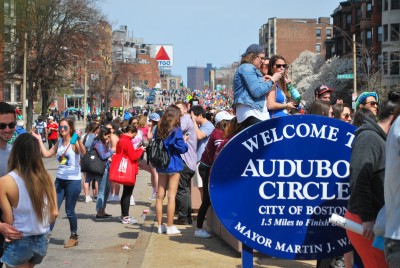 Katie Teixeira, a Boston University student, joined hundreds of other BU students in Kenmore Square to watch runners of the 2016 Boston Marathon pass through parts of campus toward the finish line on Monday.
"To see people coming out, running and cheering … is a great experience," she said as she cheered the competitors along.
Many BU students came out to the streets and showed support for the approximately 30,000 runners who ran by Beacon Street near BU's South Campus and Commonwealth Avenue in Kenmore for the 120th Boston Marathon. Students gathered in groups, cheered and held homemade signs to encourage the runners.
"It's incredible to watch people run [26.2] miles in a couple hours," Teixeira, a freshman in the Sargent College of Health and Rehabilitation Sciences, said in reference to the trek from the town of Hopkinton to downtown Boston.
Hillary Waite, a junior in the College of Arts and Sciences, expressed her excitement as she watched the runners pass Kenmore. Waite said watching the marathon is a "constant thing" and that she "likes getting to share the experience with all of BU."
For Anthony Romero, a sophomore in the College of Engineering, the marathon not only unites the BU community, but it also merges BU's spirit with those of other city residents.
"BU is already such a large portion of the city," Romero said. "[The marathon] really solidifies the relationship between us and where we go to school … and brings the city together."
Colby Rymes, a junior in CAS, said living in Boston magnifies the meaning of the marathon. The "beautiful" weather also made this year's marathon a more suitable occasion to "take a break" before finals week, Rymes said.
"Especially with 'One Boston Day,' and how that's become even more of a holiday, it's a good day to unite and be proud of where we are from," Rymes explained. "Boston is our campus … and the fact that I get to be in the city and be part of the city is awesome."
Boston Mayor Martin Walsh permanently designated April 15 as One Boston Day, a day to commemorate the "resiliency, generosity, and the strength of the people" of Boston in response to the April 15, 2013 marathon bombings, according to an April 11 release.
"I'm glad they could take a really hard situation and make it a way for us all to unite," Rymes said, commending community support and healing efforts that surround One Boston Day.
Colin Soisson, a freshman in ENG, said the community spirit and togetherness symbolize "Boston Strong," a slogan crafted in response to the bombing.
"I know the event in 2013 affected a lot of people," Soisson said, "but to see this many people still coming out today for the event, it just shows how strong Boston is."
Three years after the creation of "Boston Strong," the slogan was seen in multiple places along the marathon track. In preparation for this year's marathon, city and Massachusetts state officials unveiled a new "Boston Strong" tribute over the Bowker Overpass on Commonwealth Avenue on April 2.
Kobe Marinko, a freshman in CAS, said the slogan is empowering and indicates resiliency.
"Boston is the best city in America," Marinko argued. "Boston can survive whatever happens, and still have a good time after."
Several BU students who did not live in Boston until college also shared what "Boston Strong" means to them.
As a Sargent freshman from Staten Island, New York, Aaron Rubenstein said he had never been to the Boston Marathon. Even so, he said he relates the 2013 tragedy with 9/11 in New York, and he was excited to celebrate the marathon with friends from BU.
"This is definitely a better take on the holiday because it has got a lot of history behind it," Rubenstein said. "'Boston Strong' means that we won't be affected by terrorism and that we will fight back."
Reese Donaldson, a junior in the Questrom School of Business, said he is "at the marathon in spirit every year," though this year he celebrated with friends instead of going to the streets.
"I'm from New York, so I didn't know that the Boston Marathon was such a big deal until I came to BU [and] I'm glad I know now," Donaldson said. "To me, 'Boston Strong' means passion and the American spirit."
Ellen Cranley, Alex Li and Grace Li contributed to the reporting of this article.