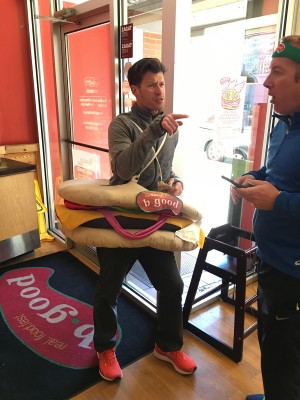 For 26.2 miles, the founder of Flutter, BostonTweet and #DownloadBoston directed his energy elsewhere. Boston businessman Tom O'Keefe ran for the second time in the Boston Marathon.
His dedication and drive to support his community flourished as he launched businesses that promoted local Boston businesses. He continued to give back to his community by taking part in the 2016 marathon.
O'Keefe said he created BostonTweet in 2008 as a way to combat the impact of the recession on local Boston businesses. BostonTweet is a Twitter account that is meant to promote Boston businesses. #DownloadBoston is a similar concept, with a few exceptions.
"BostonTweet was focused a little bit more on restaurants and [the] social … aspect, whereas #DownloadBoston is the exact same thing, except it focuses on startups," O'Keefe said. Local startups may "not be as visible as walking past [something] like Eastern Standard in Kenmore Square."
Flutter focuses more on giving everyone the opportunity to partake in charity. The platform allows donors to enter a chance to win tickets to different events in Boston, from Red Sox games to concerts and plays. All donations were capped at $10.
"Flutter came about in June as a way to create local experiences for local charities," O'Keefe said. "There is a lot of cool things here that people would love to do that don't get the opportunity to do so."
O'Keefe said he decided to cap all donations at $10 so everybody, regardless of wealth, had the same opportunity and ability to donate money.
"I always found that unfair that when there is an auction, there's one person in the room that wins the auction and then makes that donation, but nobody else partakes in it," he said.
One of the participating donors this year was the Boston Theater Company. Usually, he said, the way it works is that the one donating the product chooses the charity.
The Boston Theater Company produced the new play called "Finish Line: the Untold Stories of the 2013 Boston Marathon," running from April 7 to April 23. The play is a documentary-style compilation of interviews with survivors and reenactments of the bombing.
The experience was listed on Flutter as a potential prize and garnered $149 for the nonprofit theater company.
"Flutter is also a marketing platform, so part of it is to spread awareness for that play or whatever that might be," he said. "It's really a good way to get that message out there."
This isn't the only way Flutter was involved in supporting the marathon. The online charity also had a private patio stationed outside Starbucks on Boylston during the marathon in support of the Heather Abbott Foundation, which is in honor of a victim who lost her leg during the 2013 Boston Bombings.
"Boston has always been a huge fan of the marathon [and] has always rallied behind it, but since 2013, even more so," O'Keefe said. "I've always liked to … give money back to that."
Funding aside, O'Keefe showed his support by running the marathon himself. Beginning in Hopkinton and ending just a few steps shy of Copley Square, the marathon drew thousands of runners and spectators.
"I think it's the best day of the year in Boston," he said. "I always thought that as a spectator, but now as a runner, it's a totally different experience for me."
The marathon, he said, is so enjoyable because it's "a huge thrill" for him and because he loves to run.
"I love the race," he said. "I love competing. It's definitely one of the most challenging marathons in the country, and it's a great experience."