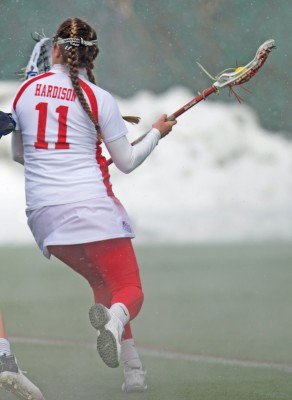 The Boston University women's lacrosse team was at a crossroads at the halftime mark during Saturday's match against the United States Naval Academy. The Terriers were dominated in the first frame, allowing the Midshipmen to score six unanswered goals, and BU eventually fell 12-6.

Navy's (9-5, 4-2 Patriot League) Morgan Young opened the scoring less than two minutes into the game and tallied her second of the match at almost the halfway mark of the opening stanza. Midfielder Jenna Collins notched two of her own goals, while attack Julia Collins and midfielder Marie Valenti collected one goal apiece.
"[Navy] scored the way that they've been scoring all year from their 1-on-1 dodges," said BU head coach Liz Robertshaw. "It was just something that we knew where the shots were going to come from and they did, and we just didn't make the stops that we normally make."
The strong Navy offense proved to be too much for BU's (7-7, 4-3 Patriot League) defense to handle, as seven different players bested the goalkeeping duo of sophomore Christine Laible and junior Caroline Meegan. It was the first time since a game against Yale University in 2007 that the Terriers have been scoreless in an entire half.
"[Navy] kind of sagged in their defense, and they were packing it in," Robertshaw said. "I think our attackers failed to adjust. When the defense lets in a couple of goals early, it kind of got our attackers rattled and they started playing safe instead of going and playing our style of attack and being aggressive."
The second half was a huge turnaround for the Terriers, who were able to buckle down and match the momentum created by the Midshipmen.
While Navy struck first in the second half with Young's third goal of the game, BU came right back with three unanswered strikes. Freshman midfielder Kelly Mathews scored her 11th goal of the season on a free position shot, and senior attack Mallory Collins beat the Navy goalkeeper twice shortly after.
"We started to play as a team," Robertshaw said. "The first half, we were quiet, we were in our own heads. And in the second half, the team did a better job of actually focusing on each other and playing faster. The No. 1 rule of our team is to play fast and push the fast pace.
Robertshaw added, "The first half, we didn't do it. I reiterated that in the second half and said if they wanted to get back in this game, that had to happen. We did, we scored goals and that's kind of how she rolls."
In a back-and-forth fashion, the Terriers found net twice via junior attack Taylor Hardison and sophomore attack Mickenzie Larivee. Meanwhile, Navy struck twice through attack Katie Gallagher, midfielder Meg O'Donnell, Jenna Collins' third of the game and midfielder Molly O'Sullivan's first of the season.
That momentum was not enough to stage a full comeback, as both BU and Navy tallied six times in the half, giving the Midshipmen their fourth-straight conference win.
With just two games remaining in the regular season for BU, each game going forward will bear an increased importance in the team's quest to participate in the Patriot League Tournament.
"They need to decide that it's important," Robertshaw said. "They need to decide which team they want to be. Either they want to be the team that goes, tries and plays for championship, or they want to be a team that goes home and celebrates summer. It's as simple as that."
Eddie Moran contributed to the reporting of this article.