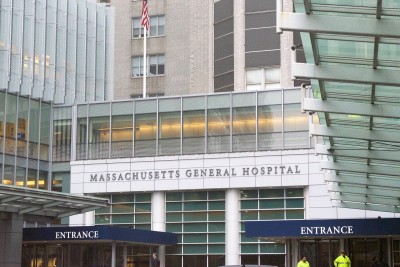 The second annual One Boston Day, which commemorated the anniversary of the 2013 Boston Marathon bombings, saw acts of kindness displayed all throughout the city that became "Boston Strong." At Massachusetts General Hospital, what seemed like a simple day of arts and crafts for patients in the pediatrics department was part of a movement initiated by the Museum of Fine Arts.
MFA Artful Healing is a program within the museum's education department that offers free art workshops for adolescents at Boston-area hospitals and health care centers.
Emily Munson, the program's coordinator, started out as an art instructor for the program five years ago and has since witnessed its gradual growth.
"Artful Healing falls underneath this community art umbrella, which basically means the museum has a desire to go outside of its own walls and bring resources of the MFA to the community," she said. "It's easy to see the benefits of a program like Artful Healing and how that can help patients and family members in a hospital."
The program partners with MGH, Boston Children's Hospital and the Dana-Farber Cancer Institute to provide two-hour themed workshops, led by two out of the five instructors on staff. Once the hospital staff approves the workshops, the instructors bring in art materials and images from the museum to use directly with the patients and their family members.
While Munson stressed that the program is aimed toward the hospital and health care community, she partnered with One Boston Day in order to get word out to the public.
"The hospitals that we partner with did so much for family and victims during the marathon bombings that I think it made natural sense for us to participate on One [Boston Day]," Munson said. "So visitors who came in on Friday could give voluntary donations, which would basically allow us to do more workshops in the coming months."
According to a "State of the Field: Arts in Healthcare" report conducted in 2009, research indicated that participating in art therapy activities could "[reduce] acute stress symptoms in pediatric trauma patients" and lead to an increase in support and positive feelings for cancer patients.
Jessica Finch, the art program manager at Boston Children's, has also noticed the prevalence of family-based art therapy programs in pediatric settings.
"I was able to work with the [Child Life Services] department and get approval to have the MFA come in once a month and do workshops in our patient center," Finch said. "Now they're here once a week, and for us at the hospital, it's really become an integral part of [the patients'] care."
Elizabeth Herron, a senior in Boston University's Sargent College of Health and Rehabilitation Sciences, pointed out the value of a program like Artful Healing and its reflection on the medical world's shift from "illness-centered care" to "patient-centered care."
"I do believe that this program having patients engage in creating beauty, and especially taking their minds off of their illness for a while, can definitely help as therapy," Herron wrote in an email. "Healing isn't just in the body, it's in the mind as well."
Munson said there's only room to grow when it comes to Artful Healing. While limited funding is a constant obstacle, she said there's a sense of gratification that comes with the job that drives her to continue running an efficient program.
"I was visiting a children's hospital, and there was a young boy," Munson said. "He was really excited about doing the project we were about to do, but his mother was just vividly exhausted and stressed. She told me, 'Thank you so much for being here. He is smiling and happy, and that is allowing me right now to go and take a shower, which I haven't done in days.' It really summed up why we do this and how we can help through the little things that we take for granted."