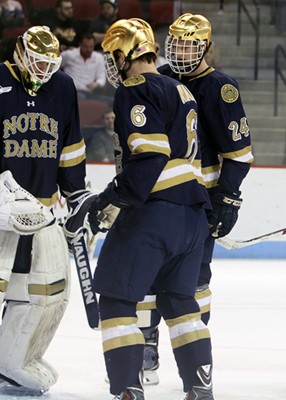 College sports are slowly becoming more and more disorganized. Teams are changing conferences every year, while other schools are petitioning to join conferences that they have no business being a part of at all.
For instance, Boise State University was looking to join the Big East in 2013. And yes, Boise is in Idaho. Why the Big East makes sense? I don't know.
The same thing recently happened in college hockey. The University of Notre Dame, located in South Bend, Indiana, joined Hockey East in 2013. Notre Dame's shortest league road trip currently is 802 miles to Hartford, Connecticut. The shortest trip!
So at the conclusion of next season, Notre Dame is reversing what never should have happened and will be leaving the Hockey East to join the Big Ten, a much closer conference. But the move simply makes no sense for the sport.
College hockey is looking to achieve balance by giving each conference an even number of teams. While this is helpful in allowing every team to make their postseason conference tournament every year, the problem is that there is too much geographical disparity in the current college hockey world.
There are some solutions to fixing it, and moving Notre Dame to the Big Ten was not one of them. The Big Ten currently consists of six teams — Ohio State University, Pennsylvania State University, the University of Wisconsin-Madison, the University of Michigan, Michigan State University and the University of Minnesota — all of which are full-time members of the conference. Throwing Notre Dame into the mix makes sense geographically but does little to balance the conference.
What college hockey is reportedly thinking of doing is putting Arizona State University into the Big Ten to make it eight teams, in addition to moving a couple teams around the eastern conferences to make even numbers.
While it would be imperative to even up the trio of eastern college hockey conferences, moving Arizona State to the Big Ten is absolutely asinine. Why would that be a thought? So that the NCAA can take eight brand-name schools and group them together for publicity.
But at the same time, you're now asking Arizona State to make a road trip to Minnesota, which is ridiculous. Granted, Arizona State isn't in the greatest location for college hockey, and there is no conference that really makes travel easy. However, one solution can help with balance: the Western Collegiate Hockey Association.
Putting Arizona State in the WCHA would give the young program a chance to compete in one of the weaker conferences in college hockey. The Big Ten would do little to help the program or hockey in the West develop properly.
Another current issue that has yet to be addressed by the NCAA is the moving the United States Air Force Academy out of the Atlantic Hockey Conference. Just because Air Force, a school in Colorado Springs, Colorado, has played in an eastern conference for years doesn't make it okay to leave things the way they are.
Air Force should also be in the WCHA, where there would be less travel and similar competition for the program.
Since the WCHA is the conference that will set all the dominoes falling in motion, here's what needs to happen.
The University of Alabama in Huntsville needs to switch places with Air Force and join Atlantic Hockey. There would still be a lot of travel, but much less compared to the annual trips to Alaska, Minnesota and the northern peninsula of Michigan.
Arizona State should join the WCHA as well, becoming the 11th team. The 12th program would be either Western Michigan University or Colorado College. Both schools have had difficulty since joining the elite National Collegiate Hockey Conference and are struggling to find success as of late.
One school, within the next two seasons, could heavily improve. In my opinion, Western Michigan would be the best fit in the WCHA in order to keep the Colorado College and University of Denver rivalry intact.
There are a number of different ways to even up Hockey East. One possibility is Merrimack College leaving the Hockey East to play in Atlantic Hockey, but that will not happen.
Realistically, the College of the Holy Cross could join Hockey East. The Worcester school holds a rivalry with both Boston College and Boston University, and this would limit travel to member schools.
Another possibility could be Quinnipiac University moving to Hockey East. This would cause even more dominoes to fall. The Rochester Institute of Technology would likely move to the Eastern College Athletic Conference, setting even more moves in motion.
There's clearly a lot that needs to be done in order to balance college hockey both talent-wise and geographically. Regardless, I'm glad to see Notre Dame leaving Hockey East. Those gold helmets were starting to give me a headache.