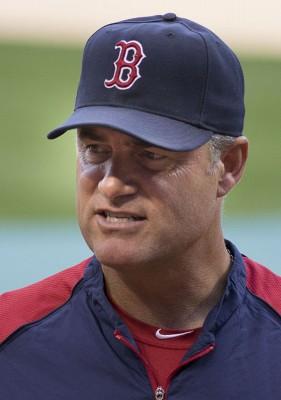 The 2016 Boston Red Sox season has not gone to plan thus far. When the pitching does well, the offense is dormant, and when the offense is working, the pitching struggles. It seems like nothing is going well for the Red Sox this season and that there's no way of fixing it.
However, I can offer a friendly solution that might solve things. How about firing John Farrell to bring in someone who, I don't know, actually knows how to manage?
Don't get me wrong — Farrell is probably one of the best pitching coaches the Red Sox has ever had. He refined a Boston pitching staff that struggled in 2006, and built it into a World Series Champion in 2007. In 2013, he took charge of a down-and-out Red Sox team and again made a championship run.
But other than that, Farrell has done a whole lot of nothing. His reign as manager of the Toronto Blue Jays was terrible, as was 2014 with the Red Sox. In 2015, Boston got off to a flying start, only to later hit a big, green wall coming out of the All-Star break.
This past August, Farrell was diagnosed with lymphoma and it was announced that Torey Lovullo would take over for the rest of the season. Despite remaining in last place in the AL East, the bench coach led the Sox to a 27-20 record down the stretch.
For those who say that the team was rallying around Farrell, you're definitely correct. However, the level of play and lineup choices differed from that of Farrell, giving the Red Sox a fresh look. And the players responded with victories.
Now, in 2016, despite bolstering a squad that has the potential to be elite, there is still something wrong with the Red Sox. It's certainly not the front office, and it definitely isn't the players either. It's Farrell. And he must go in order to allow this team to play to its full potential.
So what exactly is wrong with Farrell? His coaching decisions.
After bringing in marquee closer Craig Kimbrel, a pitcher who made the Red Sox bullpen "dangerous," in the offseason, Farrell has poorly utilized his prized reliever. As a closer, it is rare, if not uncalled for, to pitch in a tie-game scenario.
Farrell has put Kimbrel into a tie game several times this season, two of which have backfired. When used correctly, Kimbrel is immense, recording five saves in five opportunities.
.@Jared_Carrabis: "John Farrell's decision-making is not going to magically get better" #RedSox https://t.co/9A31c4FFbV

— CSN New England (@CSNNE) April 24, 2016
Even further than Kimbrel was Boston's game against Toronto on April 17. Winning the three previous games, the Sox were in a good position to win their fourth in a row. Down only 2-1 in the seventh inning after chasing starter Aaron Sanchez, the Sox looked to the bullpen, which had both Junichi Tazawa and Koji Uehara to chose from.
But instead, the Red Sox opted for Tommy Layne, who faced two batters, striking out one and allowing a hit to the other. Layne, who could easily have pitched the full inning, made way for the shaky Noe Ramirez, who allowed one earned run.
A one-run hole turned into a three-run hole, and the game was now out of reach. Despite a comeback in the ninth inning, Ryan Hanigan lined out to third base to end the Sox's hopes of a victory.
Another mysterious pitching decision came Thursday against the Tampa Bay Rays when Farrell opted to use youngster William Cuevas, who had never pitched in a Major League game, in the seventh, eighth and ninth innings of a tie game.
At some point, John Farrell will be held accountable #RedSox https://t.co/zqWLuWMwWU pic.twitter.com/YDswZaw0CK

— The Boston Globe (@BostonGlobe) April 23, 2016
With respect to Cuevas, that's a tough position in which to be thrown, and he fared decently well. Ironically, Cuevas isn't even a relief pitcher — he's a starter, and the Venezuelan said after the loss, according to The Metro West Daily News, that he's just "going to have to get used to" his new role.
Look, as far as talent goes, the Red Sox have it. David Price had a bad outing last Thursday, and that's something every pitcher endures once in a while. Kimbrel's forte isn't pitching in tie games, and debuting a starter as a reliever late in a tie game is bound to fail.
Don't blame the players for being forced into situations like that. Blame the manager (i.e. John Farrell). You'd figure that as a former pitching coach, Farrell would know how to handle a bullpen better. But unfortunately, that has not been the case.
His decisions have left fans wondering why Boston's star-studded lineup is not performing well. And it's not that the players are awful, but the situations in which they are being used do not fit their style of play. And that responsibility falls on Farrell.
So, Dave Dombrowski, improve the Red Sox by doing what needs to be done and relieving John Farrell of his duties. End the struggle of Sox fans.