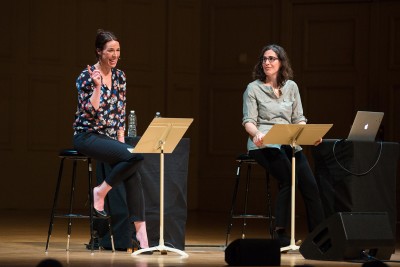 The mavens behind the Peabody Award-winning WBEZ podcast "Serial" presented to a full house of podcast fans Wednesday night. Hosted by Celebrity Series of Boston, "Binge-worthy Journalism: Backstage with the Creators of SERIAL, Sarah Koenig and Julie Snyder" sold out Boston Symphony Hall to take the audience behind the scenes of the phenomenal creation.
"Serial" is the fastest-growing podcast in iTunes history, as it reached five million views after its first six weeks in 2014, according to The New York Times. It tells one story, week by week, about a particular legal case. Between the podcast's two seasons, there is a total of 23 episodes, each around 50 minutes long.
Koenig and Snyder had worked together for 12 years on WBEZ's "This American Life" before creating this spinoff together. While both are journalists, Koenig serves as the voice and reporter of the show, and Snyder serves as the producer.
In their live presentation, Koenig and Snyder mainly focused on season one, which is centered on the 1999 murder of high school student Hae Min Lee. Her ex-boyfriend, Adnan Syed, is currently serving a life sentence for the murder. The prosecution's case, however, had many holes, which is why Koenig and Snyder decided to investigate this case, they said,
In a casual and relaxed atmosphere, Koenig and Snyder kicked off the evening by telling the audience how "Serial" came to be. Snyder emphasized that the two are "public radio producers" and that "nobody listens to podcasts," which is why their show's popularity was so unexpected for them.
They said their original goal was to gain 300,000 listeners, which erupted in laughter from the crowd. In reality, "Serial" currently had achieved 80 million downloads by February 2016.
"Serial" started in the basement of Koenig's house. The two emphasized how small the space was by featuring a photograph on screen of them working in a tiny room. Snyder even added that they often had to pause production when Koenig's kids flushed the toilet.
Koenig said the biggest problem they faced was when people from the case wouldn't speak with them. The Maryland Public Information Act, however, helped their case. The PIA was full of random information, but some of it was vital and they called it the "backbone of the entire season one," Koenig said.
After showing the audience different documents from the PIA, Snyder said, "The meat of 'Serial' is very traditional, unglamorous … reporting."
However, they mentioned that many listeners don't view "Serial" this way. Instead, they listened to "Serial" in the same way they watched television dramas.
"People were not used to responding to journalism this way," Koenig said.
They said this led to a lot of criticism because "Serial" closely mirrored a form of entertainment, calling it unethical journalism.
"Artistry is OK in reporting as long as you're sticking to the truth," Snyder said.
She credits Ira Glass, host and producer of "This American Life," in teaching her about artistry in journalism.
Of the lessons she took away from Glass, one resonated with her the most — "We're always supposed to be looking for details and moments and stories as life really is," Snyder said.
Many listeners were unsatisfied with the ending of the show because Koenig never revealed who killed Lee. Koenig and Snyder both said that they didn't want to change any facts of the story, and they did not reveal who did it simply because they didn't know themselves.
After completing the first season, Snyder and Koenig asked themselves, "Are we OK with the fact that the prosecution's story is full of holes?" and "What if [Syed] did do it, yet the state's case is still deeply flawed?"
In addition to addressing the reporting aspect of producing the show, Koenig and Snyder also talked about how "Serial" intermingled with pop culture. Although the podcast showed up on different Internet memes, parodies and countless Reddit threads, Snyder and Koenig described themselves as "normal people in the crosshairs of pop culture."
Koenig said that while it was exciting for them to stir so much discussion, it caused her and Snyder a lot of anxiety. Many people were posting their own theories about the case on social media, which made Koenig angry. These were real people with real lives, she said.
"It was the first time we felt like we were losing control of our story," Koenig said.
Koenig told the audience that it felt like she and Snyder did not have much power in controlling the release of personal information on social media.
"What's sticking with me most is when [Snyder] was talking about … ethical journalism, but it was more than that," said Tierney Miller, 27, of Dorchester. "It was the consumerism of the stories and what we need to do with the fact that it's a real story and how we need to respond to it is a culture."
Other attendees enjoyed the unique perspective Snyder and Koenig provided when talking about different Internet theories.
"When you get those articles like BuzzFeed, Reddit, you're like, 'Wow that's interesting,' but you kind of separate yourself from the fact that these are real people," said Adam Cellurale, 31, of Worcester. "You're essentially accusing them of murder … in a very roundabout way."