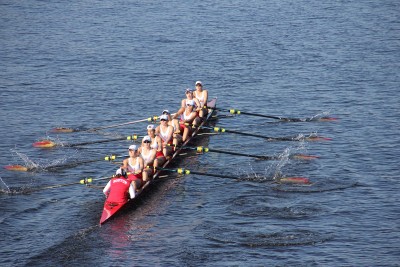 For the first time in program history, the Boston University women's lightweight rowing team won the Lightweight Beanpot against Harvard University and the Massachusetts Institute of Technology Saturday. The Crimson had previously won the competition in 2013, 2014 and 2015.
This comes one week after the Terriers won the Lightweight Invite Founders Cup over traditional powers like Stanford University and the University of Wisconsin-Madison. For a program that started just four years ago, BU head coach Malcolm Doldron said his team has come a long way since its inception.
"When things come together like they did on Saturday, it says a lot," Doldron said. "It reinforces the things we do every day. It helps to validate some of the sacrifices that everybody makes. I think it's great for our fans, our alumni and the BU community to see a young program like ours step up and do something that hasn't been done before."
BU's back-to-back wins add to an already impressive spring season. Prior to winning the past two events, the Terriers finished second in both the Knecht Cup and the San Diego Crew Classic. Much of the Terriers' success this season has been attributable to the leadership of their senior class, the first-ever class of women's lightweight rowing at BU.
The first varsity boat included three seniors, as Rachel Cohn served as coxswain, while Savannah Keller and Callie Bouzane rowed in various seats. Doldron has watched as these Terriers and their classmates have risen from walk-ons to winners.
"These were women that had no expectation to row at BU, and they all learned how to row here," Doldron said. "To see them finish off what they started, it's pretty cool, and it's one of the things that makes me so excited to get up and work with these women every day. They are great young women, and they are going to go really far with whatever they decide to do."
Men's rowing wins fourth straight cup race
For the fourth straight year, the men's rowing team won the Lusins Trophy and Conlan Cup after sweeping Columbia University and Syracuse University Saturday.
The victories follow previous wins in the Bill Cup over Dartmouth College and Rutgers University, and the Arlett Cup over Northeastern University.
BU head coach Thomas Bohrer said he was happy with the cup wins, but he noted that the depth of his team stands out the most.
"The last two weekends, all of our boats have won," Bohrer said. "The nice thing about that is not only do we win the varsity events to retain the cups, we also won all the boats that we entered. This team is really focused, more so than other years. They really work well together. The guys really encourage each other and push each other to a higher level that has led to our success this year."
On Saturday, senior Maggie Read coxed and classmate Mackenzie Copp stroked BU's first varsity boat to victory. Bohrer said leadership from the senior class has yielded promising results and paved the way for future successes.
"This spring, they molded together and set a higher example of work ethic and being a good teammate, and that's really filtered out throughout the team," Bohrer said. "Them coming together as a group has been felt by the rest of the team and pulled everyone together. It's sad to see them go, not just for me, but also from their teammates, and that's a pretty powerful thing."
Jonathan Sigal contributed to the reporting of this article.