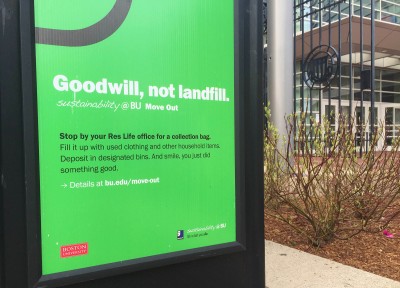 [email protected] hosted a #CleanEnergyU Earth Day dialogue via Twitter Friday and encouraged students and other Twitter users to participate and share their visions, ideas and commitments for a more sustainable future.
The four-hour conversation that lasted between 12 p.m. and 4 p.m. primarily surrounded issues following the Paris Agreement on climate change in December 2015, such as ways to deliver a future that limits global warming below 2 degrees celsius.
Participants were able to converse with leaders of the sustainable energy field, such as Mark Kenber, CEO of The Climate Group; Joel Makower, chairman of GreenBiz; Rohan Patel, special assistant to the president and deputy director of intergovernmental affairs; and Dan Utech, deputy assistant to the president for energy and climate change.
Lindsey Chew, co-founder of #CleanEnergyU and a senior in Boston University's Questrom School of Business, said the dialogue was meant to better people's understanding of energy sustainability efforts after COP21.
"Our objectives were to translate the Paris accords' 2050 vision into simple, actionable goals that students and clean energy leaders can achieve together," said Chew, a [email protected] intern, "and to empower students and clean energy leaders to accelerate both individual and collaborative progress on 2016 actions across campus and corporate sectors."
Students and professionals engaged in a series of questions and answers via Twitter about the progress of the efforts and what a sustainable future would be like.
When [email protected] tweeted to Patel and Utech and asked if the nation is close to "decoupl[ing] #economic growth and CO2 emissions," Patel replied the tweet and answered, "Global renewables investment hit a record in '15 at $286 billion."
@sustainableBU @Utech44 yes. Global renewables investment hit a record in '15 at $286 billion. 2X the investments in fossil. #CleanEnergyU

— Rohan Patel (@Rohan44) April 22, 2016
Kenber replied to Chew's tweeted question and stated that there is a major trend of many Fortune 500 companies committing to using renewable energy.
.@LindseyChew already huge momentum behind #RE100 – new cos joining every day cos it makes biz sense #CleanEnergyU

— Mark Kenber (@MarkKenber) April 22, 2016
"Twitter is an incredible platform for sharing new ideas in a fast, efficient and global way," Chew said. "We are the first generation to feel the effects of climate change and the last to be able to do something about it. The instantaneous nature of platforms such as Twitter helps us swiftly discuss and tackle global issues in unison like never before."
Energy network workshops, sticky note selfie boards and interactive campus and quad activities accompanied the top trending dialogue to amplify student voices and drive clean energy innovation, Chew said.
"Conversations like #CleanEnergyU are important because it gives us a platform to discuss the future with sustainability experts and opens doors to huge opportunities," Chew said, citing the new connection #CleanEnergyU has made with the White House as a result of organizing several dialogues.
Chew, along with Andrew Cho, BU Student Government president and a senior in the College of Arts and Sciences, visited the White House as representatives from BU to sign the American Campus Act on Climate Pledge with 218 other universities in the nation, The Daily Free Press reported Nov. 30, 2015.
Several BU students said they believe BU is making strides toward becoming a more sustainable campus, and they recognized the value of mediums like Twitter in connecting with climate change leaders.
Ashley Feng, a freshman in CAS, said she believes BU is eco-friendly, but it can always improve.
"BU is pretty sustainable," she said. "We promote sustainable practices like recycling … but we can still do more. [Twitter] definitely is a good way to connect with people nationally and globally."
Saloni Shah, a freshman in the College of Engineering, expressed an opinion similar to that of Feng.
"BU is making a lot of significant strides to being sustainable and eco-friendly … but, like most institutions, they can do more," Shah said. "Dialogues like #CleanEnergyU are a great way to directly ask questions that will help advance our sustainability goals."
Antonio Gottlich, a senior in CAS, said that while BU has been making progress in becoming more sustainable, what BU has not yet accomplished is concerning.
"Having a Sustainability [Steering] Committee that meets to discuss how BU can further continue its impact as an educator and forerunner in a growing movement to be more eco-friendly is a really positive start," Gottlich said. "But the fact that there is still political debate [on the need for sustainability] even within this university is an unrelenting issue."