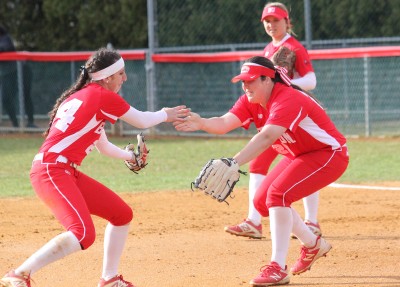 With a new coach and chemistry persisting through a young core and reliable upperclassmen, the Boston University softball team has made strides in the Patriot League as it looks to capture another title.
Alex Heinen is one of the many underclassmen who have stepped up to the plate, literally and figuratively, for the Terriers this season. Starting every game this season and batting a solid .284/.404/.362, the San Clemente, California native has brought offensive power, composure behind the plate and a positive attitude.
Before BU goes into the home stretch of its season, The Daily Free Press sat down with Heinen to talk about her first year at BU on and off the field.
1. First off, what is your "origin story?" What made you start playing softball, and how did you get to BU?
As a kid, my dad made me play a lot of sports, but it eventually came between softball and soccer because of travel ball. My parents were always supportive, and they told me if I loved it, go play and do what you love. So I played travel ball and high school ball on and off, travel over the summer, but then I broke my leg in my sophomore year, which is a big recruiting year. I had a setback there, but I worked in my junior year and started talking to coaches during that summer. I ended up catching the BU coach and fell in love with the school when I went to check it out.
2. How has your first season of collegiate softball been?
It's been awesome. It's the greatest experience I ever had. I literally could not ask for better coaching or better teammates, and I would not trade this experience for anything else in the world.
3. I'm guessing there have been a lot of great memories this season. What's been the best one of the year?
I'd have to say every time we are in the locker room, it is always one of the best times. We get really hyped there, and it is always a group of people who lead it. [Junior catcher] Gabi Martinez always plays great music, even though everyone is swapping out music. We just always get hyped and stay positive. Whether it is a 6 a.m. lift or a game day, everyone is all into it.
4. There is another first year on your team: head coach Ashley Waters. What's been the best thing she's brought to this team?
She gets the game, and that's because she recently played. It's almost like she is one of us as a teammate, in the best way possible. She is positive and encouraging and has so much confidence in you even when it is not one of your best days. She knows what it feels like to be in a slump, and she never loses faith in us.
5. As a freshman, you are catching for seniors Melanie Russell and Lauren Hynes, two of the top pitchers in the Patriot League. How has that dynamic been both on and off the field?
They are great. They work so hard, and especially after winter break towards the beginning of the year, they've been just pitching indoors. They hit their spots so well, and it is great to see them transfer that onto the field. For that reason, I have all the confidence in the world in them, and that's for the entire pitching staff too. They all have good movement, and they push hard.
6. Has there been one player on this team that has been a mentor for you?
I mean, quite honestly, a lot of them have in different pieces. But Gabi Martinez, as another catcher, has been a huge influence on me. Just watching her catch and learning how she commands the field has helped me learned new ways of the game. But everyone on this team, underclassmen to upperclassmen, play[s] a huge role and has an impact.
7. Who is the one person in sports that is your idol?
Melissa Roth. She was my catching coach, and she plays on one of the USA professional fastpitch teams. She's been one of my inspirations, and she really helped me recover from my injury in my junior year.
8. Let's switch gears here. Who has the best Snapchat on this team?
I would definitely have to say [freshman catcher] Alexa Ponce has the longest Snap streak with me. She's one of my best friends on this team as a fellow freshman. But we have a variety of strong people besides Alexa. She's hilarious, but the team is always together too, so you'll always see people cross into other people's stories.
9. To be the nagging family member, it says online that you're undecided on your major. Have you figured out what you want to major in at BU?
I have! I'm hoping to go into the College of Communication and study film and television. I did a little bit of it in high school, and I fell in love with it. I love to edit, and I am obsessed with TV shows and movies.
10. So do you have a favorite childhood movie?
"The Lion King." If we are talking childhood, we are talking Disney, so definitely "The Lion King."
11. Finals are just around the corner. If you had to choose a walk-up song before you take a final exam, what would it be?
Maybe like "The Final Countdown," just because it is the end. We play that right before our last inning of the game, and it's perfect for the end of the school year and getting it done.
12. As someone from San Clemente, California, what's been the biggest change for you here in Boston?
Definitely the weather. As I've heard, it has not been as bad this year as it was last year, but it's been quite an experience. I love snow, and to me it is totally foreign. We have a couple California girls on the team and we are on the same dorm floor as the basketball players, so we all go outside and go play in the snow. We are those people who are like, "Oh my gosh, what is this?"
13. If you could permanently add one food item to the West dining hall, where most BU athletes eat, what would it be?
More Mexican food. Like burritos. Like, California burritos. The burritos here are a little bit different from home, so it'd be awesome to have some chorizo burritos.
14. What is the one superpower you would want?
Super speed. It would be nice to go fast and be stealing on people.
15. What is the No. 1 item on your bucket list?
I really want to skydive. I don't know why, but I really want to. I was just talking to one of my teammates during practice about it, actually.
16. You can choose any fictional character to be your real-life best friend. Who would you choose and why?
The team watched this movie "Home" the other day, and there is this little guy called a Boov … His grammar is all wrong, but he is the cutest thing and it would be so much fun to hang around with him. Alexa and I joke around about him every time we watch that movie.
17. Three biggest fears. Go.
I don't like cockroaches. Definitely do not like those. Also, the deep ocean. I don't mind sharks and stuff, but way down in the depths is scary. And then outer space too, so the two extremes. I can't handle that.
18. If you had to live inside one TV show, what would it be?
"Parks and Recreation." Definitely. The characters are hilarious, and it would be really fun to work with all the characters. I love Amy Poehler too, and it would be awesome to be in life with her.
19. I know you are a freshman, but what is the one thing you want to do here in your four years at BU before you graduate?
This is so cheesy, but it is to make an impact on my team, be a good teammate and have someone to look up to me one day. I want to be that person for someone when I'm an upperclassman … Graduating would be good too. Somewhere along the way, I'll do that. That would be clutch.
20. The first conference tournament of your career is coming up. What do you expect from it?
I'm expecting all of us to bring lots of energy. We've had that, and just keeping that intensity from the first inning to the last. That would be really key to our success because everything else is seeming to fall into place. It's going to be anyone's tournament, and we just have to catch them on the right day.