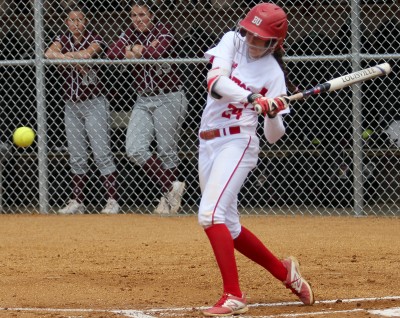 With a series sweep of Lafayette College in hand, the Boston University softball team will look to keep its form red hot when it hosts a Patriot League-leading Lehigh University side for a doubleheader on Wednesday.
This matchup was originally scheduled for early April, but poor weather conditions pushed the series back to this week. BU (19-20, 5-4 Patriot League) has now won six in a row and seven of its last eight games through power pitching and patient hitting.
Independent of the fact that Lafayette (12-27, 2-10 Patriot League) sits bottom of the conference standings, the Terriers were undeniably dominant last weekend. Sophomore right fielder Emma Wong starred, as she went 5-for-8 with four RBIs. Junior shortstop Brittany Younan was right behind her, going 5-for-12. Her .373 batting average is tied for sixth in the Patriot League.
Though the Terriers will be playing a surging Lehigh (30-11, 8-1 Patriot League) team, BU head coach Ashley Waters believes her team's form can give anyone a hard time.
"I think we're ready," Waters said. "Whether [the scheduling change] helps or not, I know that we're playing good softball, so I think against Bucknell [University] or Lafayette, whoever it is, we're not trying to focus on them, we're focusing on ourselves. If we continue to play the softball we're playing, we're going to put ourselves in a good position."
While Wong and Younan played well, the entire lineup has been able to befuddle pitchers, mainly because of its patience. Against Lafayette, the Terriers struck out just six times in three games. For context, BU walked six times in the first game alone. Waters said the Terriers had to consciously slow themselves down and "find that groove of just staying tall, keeping it simple and just getting contact."
Though BU's offense was impressive over the weekend, its pitching has been just as, if not more, dominant. Terrier pitching has allowed one run or fewer in all but one of their last nine contests.
Leading that charge has been senior Melanie Russell. In her last five appearances, she has thrown 22.2 scoreless innings, lowering her ERA to 2.62, and struck out 32 batters en route to collecting four wins and a save. The San Diego native was recognized for her recent dominance, as she was named College Sports Madness National Pitcher of the Week on Tuesday.
"I feel like she's found her groove," she said. "We're just kind of letting her do her thing. There's not much conversation, it's very much that she's a senior at the end of her career and she's going to go out how she wants to go out. So I think she's owning it and doing exactly what she needs to be doing. We're going to ride the 'Mel Train' as long as it's going."
Lehigh will prove to be one of BU's most difficult challenges to date. As reigning Patriot League champions, the Mountain Hawks have made their case for a repeat in 2016. Their only league loss came at the hands of United States Military Academy, and it was only by one run. Aside from that one blemish, Lehigh has dominated, outscoring Patriot League opponents 53-15 in conference games.
Lehigh leads the Patriot League in both team hitting and pitching with a collective .305 average and 2.62 ERA. Senior Morgan Decker is the top bat for the Mountain Hawks, as she's batting at a conference-best .427 clip. She's also tied for the league lead in home runs with six and is second in RBIs with 34.
In the circle, the Terriers will inevitably face off against junior Christine Campbell, who has been dominant as of late. In addition to ranking third in the Patriot League with a 2.48 ERA, Campbell has not gone fewer than seven innings in any of her last six appearances.
As the Terriers gear up to face a strong staff, Waters said she her batters will keep up just fine.
"They actually benefit when [opposing pitchers] throw a little bit quicker, so I'm excited," Waters said. "Obviously they have a really great pitching staff, but I think our hitters have done a really great job over the last few weeks, so I think they're in a great spot. It'll be a great challenge."