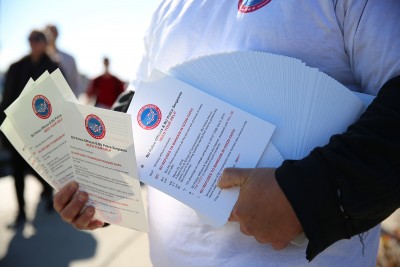 Boston University Police Department officers have passed out flyers along Commonwealth Avenue for the past week to spread awareness that BUPD's 46 patrolmen and eight sergeants have been working without a contract for more than 10 months, said Scott Rocheville, 18-year veteran officer of BUPD.
Rocheville, the president of the BU Police Patrolmen's Association, said the patrolmen's contract expired June 30, 2015. BUPPA and the university had 17 negotiation sessions to negotiate a new contract, but the university is "unwilling to negotiate … in good faith."
The BU Police Sergeant's Association, on the other hand, has been without a contract since the union was formed in March 2014, Rocheville added.
Rocheville argued that the university wanted to take some of the benefits officers have long been granted off the contract, and after the last meeting, the university was not willing to set up any more dates to meet.
"There are things that've been in the contract for years that they're looking to either change or take away completely, and these are benefits that people have enjoyed since I've been here," Rocheville said. "They're not just little things — they are drastic changes."
Rocheville said he hopes the patrolmen and sergeants at BUPD can gain attention and support from the community on this issue, because their unions, American Coalition of Public Safety Local 1 and Local 17, are fairly small.
"We're here [at BU] every day, you know," Rocheville said. "In the state of things today, we really do put our lives on the line every time we put a uniform on. So we just want a little bit of respect from our employer and to be treated fairly."
BU spokesperson Colin Riley said the university declined to comment on the negotiations.
The flyers that BUPD officers passed out included five aspects of "BU's Collective Bargaining Blueprint." The points on the flyer were more shifts and cost for health care benefits, lower employee pay, fewer employee retirement plan benefits, fewer educational benefits and disrespect toward employees.
"BU refuses to bargain in good faith," the flyer stated. "But the Police continue to do the job and will continue to keep you safe… [On] March 25, 2016: 3 Alarm fire at School of Communication…BU Police first one scene, run in to burning building risking their lives to protect the BU Community…"
After the fire was contained, a BUPD officer, along with one Boston Fire Department firefighter and three BU students, were transported to the hospital to be examined for smoke inhalation, The Daily Free Press reported March 25.
The flyer also mentioned that the BUPPA and BUPSA are not the only groups of BU employees who have unionized but still do not have a contract with the university.
BU full-time and salaried instructors and lecturers unionized with SEIU Local 509 on April 6, and they are also in the process of bargaining a contract with the university, The Daily Free Press reported on April 7.
BU adjunct faculty joined the Service Employees International Union Local 509 on Feb. 4, 2015, The Daily Free Press reported Feb. 5, 2015, and have reached a tentative contract settlement with the university, according to an early Thursday morning release. 
Several students said they were surprised to hear that BUPD does not have a contract with the university at the moment, and they believe BUPD is a necessary force on campus to keep students safe.
Shereen Abubakr, a sophomore in the Questrom School of Business, said BUPD should have a functioning contract, especially because officers respond to incidents on campus quicker than the Boston Police Department.
"If there is a real emergency on campus, then calling [BUPD] is more convenient because they'll be there as soon as they can," Abubakr said. "For anyone to work without a contract is not the most secure or promising situation, since they're not bound by anything."
Jason Song, a senior in the College of Arts and Sciences, said BUPD's flyers were informative. He added that the university should treat BUPD with fair salary and proper rights, but perhaps signing a contract is not necessary.
"BU should do a better job with paying their police officers who do a pretty good job," Song said. "In my experience, [BUPD] responds quickly to incidents on campus. I am not sure if they need contracts, but if that is something they want, then they should work towards getting that."
Alexa Vigliotta, a junior in Questrom, said she appreciates BUPD's effort to use emails and text messages to keep students informed about what is happening on campus, and she believes the officers deserve a fair contract.
"For the line of duty that [BUPD officers] are in, it makes sense for them to be contracted and unionized," Vigliotta said. "When anything is going on, they are definitely well prepared. There is always a line of police cars outside of Student Village, and it seems like BUPD is on top of things."
A previous version of this story stated BU's adjunct faculty has not reached a contract with the university instead of stating that they have reached a tentative contract settlement. The settlement was announced early Thursday morning in a release sent by SEIU Local 509. This correction is reflected in the story above.