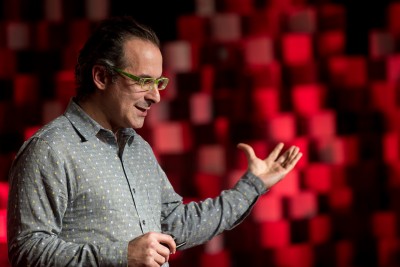 Terriers InBiz is a series that highlights Boston University alumni who have been innovative leaders in their field and have played a significant role in businesses, locally or globally.
Journalism and technology are the two of Scott Kirsner's predilections. He "was lucky to be born at the right time," he said, as his graduation in 1993 from Boston University's College of Communication was concurrent with the rise of the Internet.
In 1995, Kirsner was part of a team at The Boston Globe that launched Boston.com, the Globe's Internet subsidiary. Kirsner now writes the weekly "Innovation Economy" column that discusses startups and new companies across New England.
"We were kind of given the mandate to figure out what the Globe should do online, and it wasn't initially just like, 'Let's put all the newspaper stories online,'" said the 44-year-old Miami native. "It's like, 'Let's develop some content that feels like it's custom-built for this medium, which kind of meant games, auctions, interactive, animation.'"
Boston.com launched as one of the first online news websites.
Kirsner has shown interest in generating content and using technologies of news distribution since his middle school days, when, at age 13 to 14, he shared contents of his middle school newspaper on the Viewtron dial-up information service. He was exposed to the possibility of news being accessed digitally, giving readers more access "as opposed to reading stuff that the newspaper editor thinks they should read," Kirsner recounted.
"I just have always been interested in that stuff — the possibilities of journalism plus technology," he said.
Kirsner's love for both for writing and IT, cloaked under the spirit of innovation, led Kirsner to pursue communication studies at BU. In a nutshell, he found college to be a place for experiments. Among his college activities was being a part of The Daily Free Press, where he wrote opinion and theater pieces.
"I've done a little bit of random, weird stories, but most of what I've written about has had some business or technology angle to it," Kirsner said. "The more you write, the more chance[s] you're going to have to make a living being a writer. That's kind of what I tried to do while I was at BU."
Though Kirsner wrote for both the FreeP and several magazines, he was opposed to taking conventional journalism courses while in school.
"I felt like some journalism prerequisites don't feel like they're relevant to me," he said. "Really? I have to learn about the inverted pyramid all over again?"
Other than exploring journalism, Kirsner also tapped into advertising in college — and his experience was an idiosyncratic one. In an effort to jocularly report on happenings in BU and its adjacency, Kirsner and several friends maintained a satirical magazine entitled The Rumor, which was published monthly for about a year.
"We were just making fun of all kinds of stuff around BU," Kirsner said, noting peculiar occurrences such as the experience of riding the T and the opening of a beauty school in Kenmore Square at that time. "I like the fact that it's such a big school that you can find really creative, interesting people willing to work with you on a project with that."
Kirsner's adeptness in technology, combined with his experience in advertising, led his first steps in developing Boston.com — not as a journalist, but as a Web developer. He was instructed to sell ads for the website, but additional gigs also came his way. For example, a store he contacted on Newbury Street also asked him to make its website. It was 1995, and the Internet was just embarking upon its popularity.
"I do like to say that I sold the first ad that the Globe or Boston.com sold in '95," Kirsner said. "I stayed there for the first years of launching Boston.com and BostonGlobe.com. That was [a] really fun experience."
In addition to occasionally holding talks about emerging technologies, with attendees ranging from 10 to 100, Kirsner also runs the media startup Innovation Leader, which is a website and print magazine that focuses on thriving companies' innovative and competitive strategies.
"It's fun because it's more entrepreneurial than writing for somebody else," he said.
Advising those who intend to pursue a career in the media, Kirsner said the journalistic world is changing, and one needs to be aware of current technological developments.
"My advice is if you want to write, just write a lot and use college as a way to get experience writing, being edited, trying to interview people," he said. "Doesn't have to be necessarily involve getting paid, but just writing a lot [will] put you in a better position once you get out. Because all the technology in our world is changing, pay attention to that and spend time with it. Play around with new apps that are delivering news."
A previous version of this story stated Kirsner shared contents of his middle school newspaper on a Dialog information service rather than the Viewtron dial-up information service. This correction is reflected in the story above.