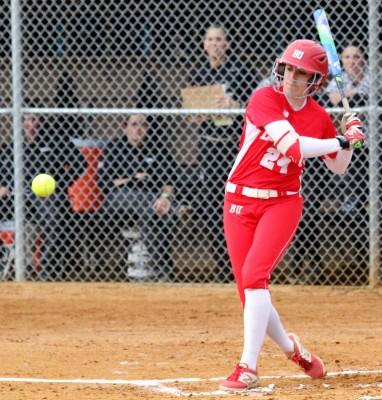 Despite falling in the second game of a doubleheader Wednesday, the Boston University softball team is fresh off its most successful week of the 2016 campaign.
After struggling out of the gate, BU (20-21, 6-5 Patriot League) recently put together a seven-game winning streak — its longest of the season. According to BU head coach Ashley Waters, the streak should instill some confidence with the season's home stretch nearing.
"Our softball has come obviously in this past two-week span," Waters said. "I think after [the United States Military Academy] game, there was a reality check for our kids and what they really wanted to do. At the beginning of the year you have goals and you have things you want to achieve. When we went to Army, that wasn't the team that we wanted to be, and I think that the team felt bad."
The streak began April 17 in a 2-1 grind-it-out game against Bucknell University, but the majority of the subsequent wins were blowouts. Convincing victories over Bryant University, University of Massachusetts Lowell, conference foe Lafayette College and Patriot League-leading Lehigh University arose, showing BU's potential.
During those seven games, the Terriers owned a striking 33-4 run differential against their opponents and averaged about 4.7 runs per contest, just above their season average.
Russell shines on mound, receives accolades
One of the bright spots on the Terriers' pitching staff this season has been the play of senior Melanie Russell. A native of San Diego, Russell has led by example and has now trimmed her ERA down to an impressive 2.83, good for seventh-best in the league.
"Mel's done a tremendous job," Waters said. "I think she battled a lot preseason. She battled a lot last year too, so I feel like she's finally kind of hit her stride. I feel like after Army on the way home, that wasn't the easiest bus ride back for her but something switched, and I think she started to figure herself out more."
Russell was recently named the Louisville Slugger/NFCA Division I Co-National Pitcher of the Week and the College Sports Madness National Pitcher of the Week. She also became the first Terrier to be recognized by the NFCA since 2010.
"The way she's throwing now is the pitcher that she really is," Waters said. "I couldn't be happier for her as a person, regardless of what she's doing on the field. It's a really difficult sport to be in a slump when you don't have your best stuff. I'm excited for her, proud of her, and obviously it's putting us in a great position in the Patriot League."
Terriers are hitting their stride
Although performances from Russell and senior pitcher Lauren Hynes have carried the team, BU's offense has also been proficient as of late. Terrier bats have capitulated their way to the conference's third-best batting average, and are now batting a collective .295.
"We've done a lot of hitting — the one thing I pride myself on is reps," Waters said. "I believe that the more that you do something, the better you're going to be at it. We definitely take a lot of cuts, we obviously have worked [on] hitting throughout the entire year, but our kids stay consistent with it. They've really worked on it, and some people have really bought in and just kind of found their groove, found their swing."
Led by the offensive spark that junior shortstop Brittany Younan provides (team-leading .366 average), the Terriers have six players batting above .290 on the season.
Junior left fielder Moriah Connolly (.333), sophomore right fielder Emma Wong (.320), freshman second baseman Emily Morrow (.296), freshman catcher Alex Heinen (.293) and sophomore center fielder Jilee Schanda (.292) have all eclipsed that mark.
"Offensively, we have the ability to do a lot of things," Waters said. "I knew our offensive lineup would be a tough lineup to break into, but obviously a lineup that could score some runs. With our pitching and our defense doing what they're doing, it takes the pressure off of our offense and allows them to enjoy their swings."