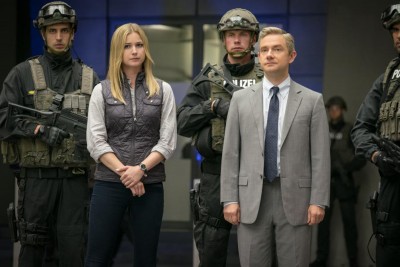 There's a cool-kids clique in the Marvel universe, and it's not exclusively made up of the Avengers. Though "Captain America: Civil War" does feature an almost inconceivable number of A-listers, directors Anthony and Joe Russo made sure to showcase flourishing names as well.
One such actor is Emily VanCamp, who stars as Captain America's love interest, Sharon Carter. Though Carter does add a bit of color to his personal life, the crux of the film is the battle between Cap (Chris Evans) and Iron Man (Robert Downey Jr.), over who would thrive at the helm of the Avengers. Cap, the patriotic Steve Rogers, prefers an entirely independent leadership style, while Iron Man, business magnate Tony Stark, isn't opposed to a little government accountability.
"They really delve into the depth of what these two characters within the universe truly, truly feel," VanCamp said in a conference call interview with The Daily Free Press. "And they are the extremes of those feelings that, you know, other people are kind of following, so it still does feel like a 'Captain' film."
And so it does. Carter's storyline carries over from "Captain America: The Winter Soldier," in which her true identity as Agent 13 of S.H.I.E.L.D. is revealed to Rogers, who believed her to just be his attractive, laundry-attentive neighbor Kate. She later joins the CIA and is stationed in Berlin, but her "Civil War" story begins with attending her Aunt Peggy's funeral in Berlin.
Yes, the very same Peggy who was once Rogers' love interest herself. Out of a fondness for Rogers, perhaps mixed with a sense of some unusual generational ties, the younger Carter works with him, exhibiting what VanCamp claimed is "an inevitable, immediate trust between them."
"We see that the stakes are high for her, because her job is at stake if she's helping Cap," VanCamp said. "That's the bottom line, but we really see her sort of follow her heart rather than her head, I suppose … You really get a sense of her loyalty to him, which I think is interesting, and something that I loved about their relationship in the comic books."
Despite her lack of full-on superhero status, VanCamp noted that Carter isn't reduced to a one-dimensional love interest role. With her true identity now solidified, "Civil War" treats audiences to a transformation, of sorts. Carter was at a "rookie stage" in "The Winter Soldier," but the newer film allowed VanCamp to uncover more of the character's complexities.
"Her openly being Sharon Carter, Cap knowing she's Sharon Carter, it kind of allowed us to delve into their relationship a bit more and really dig into where her loyalties are," she said. "It's just really fun to play. Now that it's not hidden, who she is, it can kind of just go there with her."
As is to be expected, VanCamp didn't go into the production process blind. But a lesser-known tidbit is that Marvel provides actors joining the universe with what she referred to as "all of these bibles." With the literature, VanCamp compared various depictions of Carter's character and channeled them into one cohesive persona.
"[Carter's] relationship to Peggy varies from comic book to comic book, all of that, but it's fun to kind of take elements from all of the different stories and really piece together a character that hopefully the fans enjoy," she said. "And it's a really interesting process, because you don't always have that kind of information readily available when you're researching for a part."
A part that VanCamp may have been referring to in the latter statement is her former role as the lead character in the television series "Revenge." The ABC drama, which came to a close in 2015, details the journey of a woman seeking vengeance after her father was wrongfully imprisoned and then murdered. In addition to the lack of a comic book-based research process, VanCamp drew attention to differences in production methods between filming a network series and a blockbuster film.
"I always say that having a TV background is amazing, because you move so fast and you really have to be quick on your toes, which kind of prepares you for anything that's thrown at you," she said. "Obviously they take more time in the film, so it's a luxury, really, to have that kind of time. But there are moments."
This change in pace is just what VanCamp needed. After four action-filled seasons of playing an incredibly troubled woman, she said it was rewarding to be able to take a step back and experience something new.
"My stuff [in 'Civil War'] wasn't the highest intensity stuff, so I just got to show up a lot and have fun," VanCamp said. "Which is really great, especially after 'Revenge,' which was constantly, constantly tortured, you know? So it was a great departure from that."
Marvel not only granted VanCamp the opportunity to diversify her portfolio, but it also pursued another goal that she became personally involved in — diversifying its gender representation. She supported March's Captain America Civil War Challenge, a competition that called for girls between the ages of 15 and 18 to create innovative projects in the science, technology, engineering and mathematics fields.
VanCamp hinted at fellow "Civil War" actresses Scarlett Johansson and Elizabeth Olsen in praising Marvel's move toward including more women in powerful roles. And while the number of male actors featured in the film far outweighs their female counterparts, VanCamp expressed hope for the ability of the actresses present on-screen to inspire younger viewers.
"These characters are so much fun to play, but to know that in doing this, it could be you potentially empowering young girls, is amazing," she said. "I think Marvel's really trying to diversify. They're really sort of incorporating more women in these great parts, and I think it's just kind of heading in the right direction, you know?"
"Captain America: Civil War" will be released May 6 in theaters nationwide.