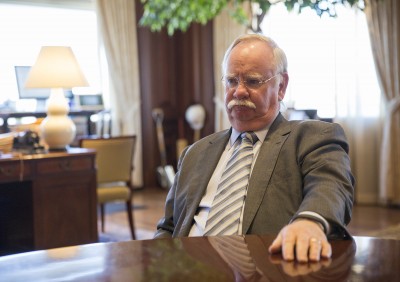 "Boston University is on a journey," BU President Robert Brown told The Daily Free Press on Thursday.
Brown highlighted some of the ways in which the university aims to shift its tuition-heavy dependence to the university's endowment, including the Campaign for Boston University that just reached its goal of $1 billion on April 14.
"One of the things that BU had not done in its past is launch these large, comprehensive, capital campaign, raising money from their alumni and friends," Brown said. "We've just never done it before."
Brown said the current "a little over $1.5 billion" endowment puts BU behind other large, multi-college research universities in the nation. Though it seems like an amount of money that would contribute a lot to the university's operational budget, Brown said the endowment sum BU has contributed "very little" to the university's operation and is an inappropriate amount compared to the university's "size and prestige."
In the following conversation, Brown explained to The Daily Free Press how the dependence shift to endowment plays a part in the long run of the university, how a certain budget gets allocated and the reason for the continuous increase of students' tuition.
What is your goal?
Robert Brown: Our goal is to be a great research university, but that definition doesn't get you to a place. It's not a place you're going, it's a path you're on, because the path doesn't end. You don't arrive and say, "I got there." The university is continually moving and changing, trying to figure out where that path is taking us. We have a strategic plan, but the plan isn't something that you arrive at. That's the challenge. It's to keep changing.
There is dissonance between great goals and the student body's understanding of where we want to go and how we want to achieve [the goals]. What do you think are some of the better ways to fill that gap [between the university's goals and what the students understand]?
RB: The biggest measure we have of students' satisfaction and attraction is who comes, who stays and how they graduate and what they do when they leave. We see more people apply, better students apply, higher rise of people staying, better accomplishments when they graduate and an increasing placement of their jobs. Those metrics would say, to me, that in mass, we're doing fine. When someone's here, they might say, "Well, I'd rather you put resources there and there and this and that." Those are all things people can disagree about. The most important measures for us is that the path we're on — and you can disagree with all kinds of little things — is leading to an institution that is increasingly sought after by the kind of students that we want to attract.
What is the process to determine where … we allocate the money we receive as a university?
RB: We have an annual budget process through every unit at each of the departments. Those budgets roll up to the deans, the deans then go and negotiate the budget with the provost, Jean Morrison, on this campus, and Karen Antman on the [BU] Medical Campus. We look at where the budget was last year, we look at how things have changed. Either you're attracting more students, attracting fewer students, have initiatives that need funding, and Jean [Morrison] allocates either the new resources that we have, if there are new resources, or takes away budget from someone and gives it to someone else. This is a zero sum game.
You have input at the lowest level of the department. "I believe I should get the budget and not Questrom. The money should go from Questrom to COM." No — the provost decides that. Someone has to make the decision. You can't make the decisions by some kind of vote. It's never going to happen. We're very transparent in the budget. I think we're clear about how we do it. There's a difference between not being clear and people not liking the result. I don't expect everyone to like the result because people will disagree.
Why do we have tuition increases?
RB: One of the great challenges is all about the time scale. We try to do things in a way we believe is sustainable, and would lead us in a journey that five years from now, 10 years from now, we will be a better university.  Let me give you a great example with the budget. Sometimes, students' or anyone's reaction is in the moment: "What would be better for me?"
For example, "Why do we have a tuition increase?" What I'm going to say, maybe, is making it too simple, but it's not too far off. The quality of education hinges pretty much on one ratio — the ratio of the number of students and the number of faculty. It's not perfect, because in one program, the ratio might be different from another. Assume for a minute that the ratio is the figure of merit. OK, for example, I actually want to give my faculty a raise, because if I don't give my faculty a raise, they will look for jobs elsewhere.
Now I am left with three choices. I could charge more tuition to give the faculty a raise, I could bring in more students at the same tuition, I could fire a few faculty and give the salaries to other people. When you think about it, if I bring in more students, the student-faculty ratio goes up. Is that going to be a better educational experience for students? If you make the faculty smaller, the student-faculty ratio [also] goes up, and the number of courses you have as your option goes down. So there's one [option] left — raise tuition, or not give your faculty a raise. It's a problem … of the system of how we define quality. Until we can define quality where that figure of merit, the student-faculty ratio, is not what everyone hinges on, we're stuck. That's the challenge, and no one has figured this out.
So how do you get the ratio down? I've got to figure out a way, and this is where fundraising comes back, to have more of the faculty paid for by the endowment, not by tuition. So that the faculty raise is not paid for by tuition, it's paid for by this other source of funds. That's what's going on, and the solution to that takes a long time. The frustrating thing … is that there is no magic bullet, and zeroing the tuition increase one year doesn't solve the problem. It goes back to time scale. It will solve it for you and your parents. You'd be very happy because you'd get out without tuition increase, but every time you see somebody do that, five years later, they have to make it up.
There's not a short-term fix by zeroing the tuition increase. All that does is postpone the problem.
Out of the three hypothetical choices you gave earlier, what would you choose?
RB: My choice at the end is to take us on that journey of quality. I'm responsible for that piece, and people around me advise me on how to do that. I think we will be, 10 years from now, a better university trying to push cost savings all we can to keep our tuition increases as low as possible, but keep the quality of faculty high, the number of students low, keep that student and faculty ratio as low as we possibly can and stay on that path because we're getting better.
I feel like we have to stay the course. It's tough when you're in it … but I think when the institution looks back a decade from now, or like 20 years from now, what's going to happen is we're going to have alumni who are really attached to the university. That's [why] the campaign gives us hope.