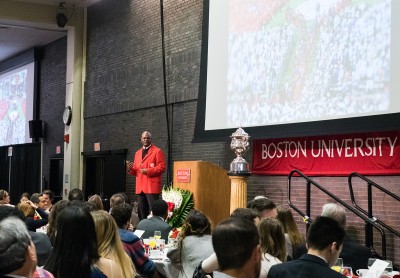 Nina Tassler, former president of CBS Entertainment and a 1979 alumna of Boston University's College of Fine Arts, will be the commencement speaker to address the Class of 2016 on May 15 at Nickerson Field, BU President Robert Brown announced during the senior breakfast Monday morning.
Approximately 2,500 seniors attended the breakfast in Metcalf Hall at the George Sherman Union, where Brown also announced honorary degrees. The recipients include U.S. Secretary of Energy Ernest Moniz, former BU hockey player and 2000 College of Communication graduate Travis Roy and Peace Corps Director and 1979 College of Arts and Sciences graduate Carrie Hessler-Radelet, who will address the seniors as the baccalaureate speaker.
Neha Malrani, a senior in the Sargent College of Health and Rehabilitation Sciences, said after the breakfast that although she did not know who Tassler was, she is still excited to hear her speech.
"I was kind of hoping for someone a little more out there," she said, "but I still think the speakers they got are world-renowned. I'm definitely still excited."
Jamie Dingus, a senior in the College of Arts and Sciences who will read the benediction for the baccalaureate speaker, said after the breakfast that she is especially excited for Hessler-Radelet's address.
"Getting to share the pulpit with the person who is in charge of the Peace Corps is the coolest thing," Dingus said. "Although I don't really know the commencement speaker, I appreciate the introduction that President Brown gave and it sounds like she's incredible."
Brown announced the recipient of the Metcalf Cup and Prize, the highest teaching award at BU, to Christopher Gill, a professor in the School of Public Health.
The Metcalf Awards for Excellence in Teaching go to CAS Professors Erin Murphy and Manher Jariwala.
Dean of Students Kenneth Elmore announced the recipients of student awards. The Student Sustainability Leadership Award was given to Lindsey Chew, a senior in the Questrom School of Business and Andrew Cho, a CAS senior and the president of BU Student Government.
Debra Marcus, a senior in CAS, will be the student speaker at commencement.
During the breakfast, Brown spoke about some of the major events that occurred during the seniors' time at BU, including the blizzard-filled winter of 2015 and the Boston Marathon bombings, which occurred during their freshman year in 2013.
"You are part of a community at Boston and at the university that are integral to each other," Brown said. "'Boston Strong' will always mean something different to you than it does to other people."
Brown also talked about several major changes that occurred during the past four years, such as the Engineering Product Innovation Center and the Yawkey Center for Student Services. Brown said when the seniors return for a reunion, they will see more renovations to the university, including the revamping of the Howard Thurman Center for Common Ground and a new CFA theater on Commonwealth Avenue.
"You all came to BU with a goal of completing your undergraduate education," Brown said. "I hope that you've fulfilled your expectations here and you're ready to walk onto Nickerson Field to start that next stage of your life."
After the breakfast, several seniors reflected on their time at BU, and said they were excited for commencement.
Jenna Lavin, a senior in CAS, said that she is excited to finish school and is confident that her friendships will carry on after graduation.
"It's been the best experience to share all four years of college with the same people," she said, "I'm really excited to carry it on after graduation and redefine our family without BU being our base."
Courtney Jones, a senior in CAS, said that the idea of graduation still is surreal to her.
"I still sort of can't believe that I'm done," she said. "There are these moments where I want to laugh and cry, especially when they said 'Congratulations Class of 2016!' It's just like, what, I'm really graduating?"
Allie Bouranova, a senior in COM, said she is excited to graduate and take on the world.
"I'm ready to test myself in the real world without a safety net underneath me," Bouranova said. "I'm excited to take on the next chapter of my life but I'm also sad to leave this behind."