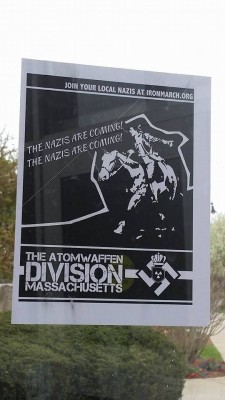 The Boston University Police Department is conducting an investigation regarding the several neo-Nazi placards and posters found on campus over the weekend, BU President Robert Brown wrote in an email to the BU community Tuesday.
The materials, containing words such as "Black Lives Don't Matter," and "The Nazis Are Coming," were placed around the campus, including the entry of Yawkey Center for Student Services and 100 Bay State Rd., BU Today reported Tuesday.
If BUPD's investigation finds that the poster and placards were placed by BU-affiliated members, the university will take proper action based on rules of conduct, Brown wrote.
"This incident is a reminder that the human capacity for hate is deeply rooted and never as far from our daily lives as we would like or hope," Brown wrote in email. "We also know that the human capacity for healing and renewal in a spirit of generosity and understanding is deeply rooted."
BU spokesperson Colin Riley said Brown conveyed his thoughts in a "pensive" tone in the statement.
"This shows how serious BU is taking this matter," Riley said.