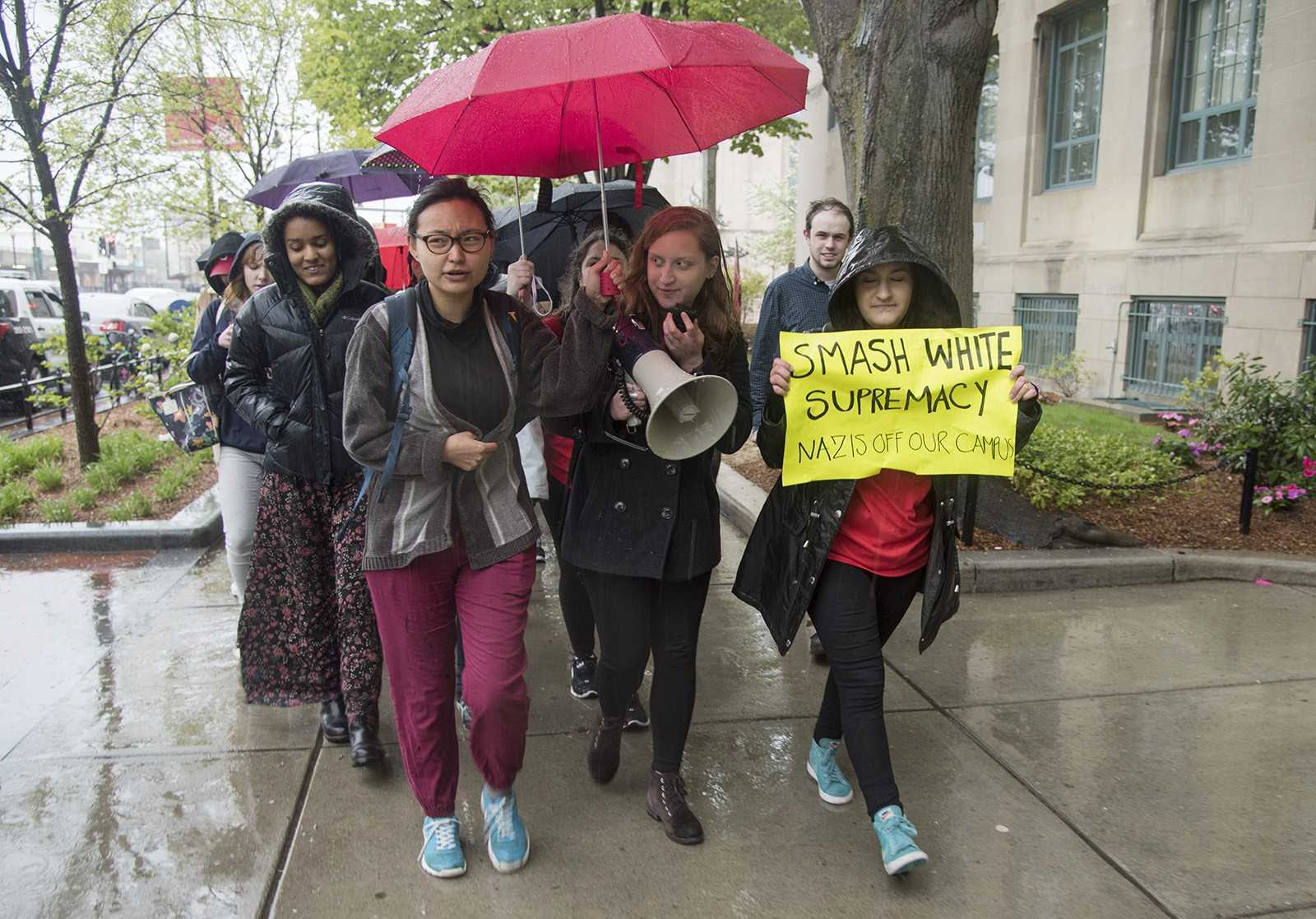 More than 50 Boston University students and faculty and local Boston residents rallied at Marsh Plaza on a rainy Wednesday afternoon to protest the neo-Nazi posters and placards recently placed around campus.
"Racist, sexist, anti-gay, Nazi supporters go away," they chanted, holding posters and signs that read "Black Lives Matter" and "Racist and Nazis — Get off Our Campus."
Marlo Kalb, a BU senior and the organizer of the protest, said she created the Facebook event after she saw the racist propaganda on BU's campus over the weekend.
The protestors marched down Commonwealth Avenue and stopped at the lawn in front of the College of Communication. The rally continued with a round of speeches.
"We've all come out here today to say that we won't tolerate [racism] anymore," Kalb said during her speech. "It's unacceptable, and we want Nazis out of here and off of this campus."
Kalb said BU has a history as a politically active campus, especially during the Civil Rights Movement and on the issue of Apartheid. The protest aimed to show racists and anti-Semitic groups that BU is still a place where students can fight back, Kalb said.
"We're sending them this message that we don't stand for [racism] and that we won't let the administration sweep this under the rug," Kalb said after the rally.
Negin Taleb, a junior in COM and a co-organizer of the protest, said in her speech that all BU community members should work together to fight on the issue.
"This protest goes beyond the fliers spread around campus," Taleb said. "This protest is about calling on students, faculty and administration to come together in solidarity with all oppressed groups who are subject to racism from white supremacists and neo-Nazis."
After the rally, Taleb said she was glad that many protesters came out on a rainy day.
"We got a lot of people's attention," she said. "[Some people] joined in chanting and standing with as they were walking by. It's just the best feeling to see that happen."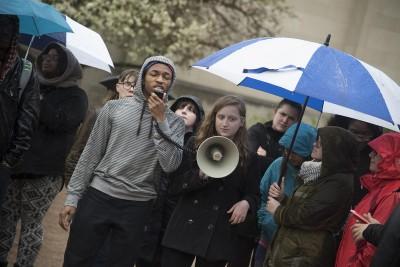 Jane Dimnwaobi, the vice president of internal affairs for BU Student Government, spoke at the rally to support the protestors on behalf of SG.
"On behalf of the elected Executive Board members of SG, we stand in solidarity with every member of the Boston University community who is affected by this prejudice," the College of Arts and Sciences sophomore said.
Dimnowabi added that SG will be committed to fighting against racism and discrimination on campus.
"Hear this: black lives do matter on campus, and the BU community will not sit idly by while our students are threatened," Dimnowabi said. "Our SG will not stand for it."
In an email sent to the BU community Tuesday, BU President Robert Brown said the BU Police Department is conducting an investigation into the posters. If the investigation finds that the posters were placed by BU-affiliated members, the university will take proper actions, The Daily Free Press reported Tuesday.
Some protestors said the administration and the community could do more to promote a safe space for students on campus. Others said they were pleased with how the administration handled the hateful incident.
Lornex Rono, a freshman in CAS, said although she has felt safe at BU, she has witnessed a lot of racism on campus.
"Of course [racism] has affected me negatively," Rono said. "I came here with an open mind, thinking it would be a little bit more liberal and accepting. [Racism on campus] has impacted my experience in that I sometimes wish I went elsewhere."
Desmond Molloy, a freshman in the Sargent College of Health and Rehabilitation Sciences, said he felt the administration was handling the posters responsibly.
"[The administration] had a fairly good response," he said. "The police have taken it pretty seriously, so it shows that they are making a positive effort."