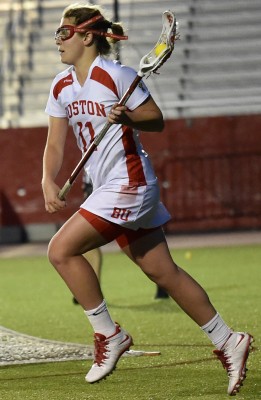 The Boston University women's lacrosse team closed its 2016 season the way it finished the season last year — with a loss in the semifinal game of the Patriot League Tournament. This year, on Friday night, the Terriers (10-8, 6-3 Patriot League) fell to the United States Naval Academy 10-7 at the Ridley Athletic Complex in Baltimore Friday.
It was a very physical contest, and BU fought throughout. Ten-year head coach Liz Robertshaw was proud of her team's efforts.
"Obviously it's disappointing to have a loss in the semifinal game, but it was a tough match against a solid Navy team [13-5, 7-2 Patriot League]," Robertshaw said. "They were led by [sophomore] Julia Collins who had a great game on the draw control, but also in scoring. I think she was a good team leader for Navy. I think our defense played pretty well, holding Navy to 10 goals. I just think we fell short on the attacking front."
The defense certainly did their part, as the Midshipmen did not score a goal until 10 minutes into the contest. Navy's lead grew to 2-0 before BU junior attack Taylor Hardison could feed the ball to freshman midfielder Kelly Mathews for her 16th goal of the season. Hardison would add a goal of her own ten minutes later, knotting the score at two.
Hardison had a team-leading total of assists, at three.
"The fact that Taylor has really come into her own as a crease player and having those assists is something that we've come to rely on in order to have great games," Robertshaw said. "You don't often find somebody who has that many assists and that few of goals to be a leading scorer for the team but it just shows how well she's done."
Navy continued to put pressure on BU junior goalkeeper Caroline Meegan, who, despite making eight saves in the first half, let the Midshipmen enter halftime with a 5-3 lead.
Both teams scored in the opening minutes of the second, but Navy strung together three straight goals early in the frame to take a 9-4 lead.
This was simply too much for the Terriers' offense to overcome, which was operating without two of their top scorers this season. Senior midfielders Ally Adams and Remy Nolan, who have combined to tally 41 goals and 18 assists this season, did not play in this contest.
Robertshaw attributes much of her team's success this season to the play of these individuals, but more importantly the entire senior class.
"All of our success goes to our seniors – it's a credit to them," Robertshaw said. "At this point last year when we had lost in the semifinals against Loyola [University Maryland], this class got together and decided that they wanted to be different, that they wanted to have a different mentality for the team … I couldn't be more thankful for all the work that they did, both on the field and more so off of it."
BU made a late run in this Friday's match, scoring twice in the last three minutes to make the final score closer, but it was a difficult match for a team that has shown significant progress this season.
In reflecting on the 2016 campaign, Robertshaw had nothing but positive things to say about her side. If this year is any indication, expect BU lacrosse to continue to take steps toward Patriot League prominence next season, and advance even further in the tournament, she implied.
"I just saw a big change in the program this year," Robertshaw said. "I felt like they were extremely dedicated, task-oriented, and very team-focused. Every decision that was made was made as a team. That's how we could get better and how we could put this program in a better state, and I know it didn't always show up in the wins and losses category, but this program is in a better place than it was."