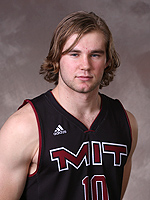 A former Massachusetts Institute of Technology basketball player pled not guilty Wednesday to charges that he raped a female Boston University student last October while she was asleep in her dorm room at 33 Harry Agganis Way.
Samson Donick, 20, of Tiburon, California, was arraigned at Suffolk Superior Court. He was charged with aggravated rape, breaking and entering at night with the intent to commit a felony, burglary and indecent assault and battery, Suffolk District Attorney Daniel Conley's office said in a statement. He was ordered held on $10,000 cash bail.
If he meets bail, Donick is to surrender his passport, have no contact with the victim or witnesses, stay away from BU's campus and remain outside of Massachusetts, clerk magistrate Lisa Medeiros ordered.
Donick is scheduled to reappear in court June 22, and the trial date is set for Feb. 8, 2017.
His attorney did not immediately respond to a request for family.
The victim's family said in a statement that they appreciate the district attorney's efforts to pursue criminal charges, especially because "campus sexual assaults are rarely reported, and they almost never lead to prosecution and accountability."
The family said they hope the case will inspire other sexual assault victims to contact police immediately being assaulted, and to "fight for justice" to which they are entitled.
Lexi Peery contributed reporting to this article.