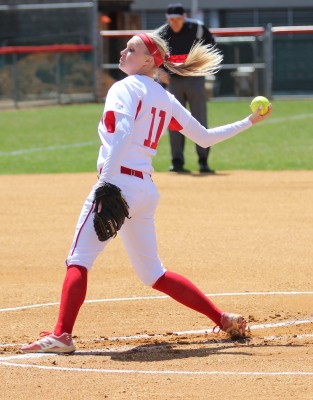 Following an improbable Patriot League tournament run, the Boston University softball team was crowned conference champions for the 11th time in program history Sunday afternoon, as it defeated Army West Point 9-0 in five innings at Lehigh's Leadership Park. The Terriers (28-22, 11-6 Patriot League) claimed their fourth title in seven years with the victory, and move on to make their eighth appearance in the NCAA tournament.
This mercy-rule win was a statement game for BU, as it displayed the offensive firepower of its roster, especially sophomore third baseman Kaitlin Sahlinger, junior first baseman Gabi Martinez and junior shortstop Brittany Younan, who all had multi-RBI games. The victory also showcased the talent of senior pitcher Melanie Russell, who threw a one-hitter and was awarded Patriot League tournament MVP honors.
With a win like this, especially against Army (39-20, 13-5 Patriot League), a team that swept the Terriers in the first weekend of Patriot League play, first-year head coach Ashley Waters was thrilled with her team's efforts.
"I'm incredibly proud of the offense, the defense, the pitching piece, and I feel like they all came together," Waters said. "Top to bottom, I think everyone showed up to play this weekend."
She also had high praise for Russell, who only allowed only four runs to top two-seeded teams in the tournament through a total 19 innings on the mound.
"She grew with her pitches, and it's like the same thing with our offense," Waters said. "As in, once you are seeing the ball well and your swing is good, there is no stopping you. It is the same thing with our pitching piece. She's snapping the ball, hitting her spots and making the ball move in such a way that nobody can make too much contact."
The team next heads to Louisiana to begin its NCAA regional matchups. Its first opponent is No. 10 Louisiana-Lafayette, who won the Sun Belt conference to earn its 18th straight NCAA tournament appearance. The Ragin' Cajuns (43-7) made it this far thanks to the bat of senior Lexi Elkins, who is hitting an astounding .517 for the season, and the arm of junior Alex Stewart, who averages almost a strikeout an inning.
With a perennial powerhouse like Louisiana-Lafayette as BU's next opponent, Waters realizes the challenges she and her team face.
"I think like anything else it's a matter of keeping everyone loose and relaxed," she said. "It's making us feel like we are going up against other college-aged students. We are excited to be there, I'm thrilled for them, and it is an incredible stage to be on. But we are going to make the most of the weekend, and play to win."
After the Ragin' Cajuns, the Terriers would play either the University of Texas, a team that hits above .300 collectively, or a familiar team in the No. 17 Texas A&M.
The Aggies (37-18) squared off against the Terriers in the pre-season San Diego Classic tournament, where they defeated BU 9-1 through six innings.
Waters and her team are excited about the prospect of a potential rematch, as they feel that since March, they have grown to the point where there is some unfinished business.
"At the end of that Texas A&M game, I think the kids realized that they can play with anyone if they actually play their best and they felt that on that day, they didn't," Waters said. "It is a big time confidence thing with the hope of playing them again and having a shot at redemption."
Since taking the reigns of the program, Waters and her staff helped turned around a program that played under .500 softball a season ago and missed the conference tournament. She credits her players, though, for the success they have had this season as they enter the NCAA regional stage.
"There is a transition period anytime. There is a new coaching staff and they bought into the mentality that we were teaching," Waters said. "I feel like I walked into a situation where I have a group of 22 kids who I really want to see every day and spend time with. It is really a special group with a special mentality."