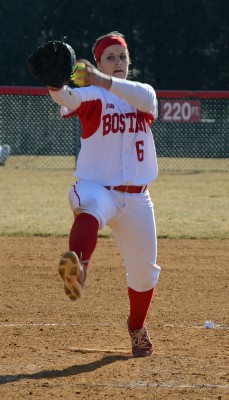 For the Boston University softball team, the 2016 season was one of many ups and downs, and its appearance in the regional round of the NCAA tournament was no different. The Terriers (28-24, 11-6 Patriot League) fell to No. 9 Louisiana-Lafayette 9-5 Friday night, and were then eliminated by No. 16 Texas A&M in a 6-0 shutout on Saturday in Lafayette, Louisiana.
Despite two consecutive losses to end the team's season in the regional round, first-year head coach Ashley Waters was proud of her team's effort and resiliency, as BU put up a fight against two of the top teams in the nation.
"Obviously when you take a head-coaching position the idea is to come in and win," Waters said. "We wanted to make sure we were focused on our academics as well as our athletics. Our kids really did great in both areas and I think it speaks a lot to them and our institution. You know they're succeeding on a national level, while they're also attending one of the best schools in the country. I'm incredibly proud of what we did this year as a staff and as a team."
The Ragin' Cajuns (46-7) were a tough draw for the Terriers in the first game, having made the NCAA tournament for the 18th consecutive year. BU did strike first though, taking the early 1-0 lead after freshman designated player Alexa Ponce was hit by a pitch with the bases loaded in the top of the first.
The Terriers' lead did not last, as Louisiana-Lafayette put together a three-run bottom half. The Ragin' Cajuns would score the next four runs before the Terriers mounted a comeback in the fifth inning.
Junior left fielder Moriah Connolly, one of four BU players to have multiple hits in the contest, got the rally started with a single past the outstretched glove of the shortstop. Ponce narrowed the deficit to four with a two-run double, and freshman second baseman Emily Morrow made the score 7-4 Ragin' Cajuns later in the inning.
Louisiana-Lafayette's relentless offense put up two more insurance runs en route to the 9-5 final.
Although their comeback bid fell short, the Terriers held a 13-9 advantage in hits, and was the only team this season to record that many hits against a stingy Ragin' Cajun pitching staff.
"Going into it we obviously knew how strong they were," Waters said. "So for us it was just a matter of coming in and trying to play our best and compete with them. We wanted to go a full innings and really give them a run for their money, and I thought we did that.
"If we cleaned up some other areas I think it would've been a completely different game, but we did a great job of at least fighting and trying to come back and stay in it."
BU drew the Aggies (39-20) in the elimination round, and the Terriers simply ran out of gas, mustering three hits in only its third shutout of the season.
On the strength of a stellar complete-game eight-strikeout performance from freshman Samantha Show and a five-run second inning, Texas A&M put a close to what was a very successful season for BU softball.
"She pitched seven innings against us, and then she just turned around and beat [University of] Texas so that's obviously the caliber pitcher she is," Waters said of Show's performance. "She was tremendous. I don't think we really ever got our offense going."
The Terriers, Patriot League champions in two of the last three seasons, have much to look forward in the coming season, even after pitchers Melanie Russell and Lauren Hynes graduated last weekend. But returning are five All Patriot League honorees — junior shortstop Brittany Younan (1st team), sophomore right fielder Emma Wong (1st), sophomore center fielder Jilee Schanda (1st), freshman catcher Alex Heinen (2nd), and Connolly (2nd).
"The runs we scored and the offense we put up – those kids are all returning so that's an exciting sign," Waters said. "We lose Mel and Lauren in the circle, but for us moving forward we got our feet wet in this tournament and it's awesome to be here – it's an incredible experience. To have the freshmen feel it and experience it, that's something they're going to want again, so it leaves a really good taste in your mouth regardless of what the outcome is."