By now you've probably already visited campus and explored all the academic and extracurricular activities that Boston University has to offer, but there's something important that your tour left out — food, of course! Sometimes, eating at the dining hall every day just doesn't cut it. We here at the ol' Free Press thought we'd introduce you to some great places to chow down on and around campus.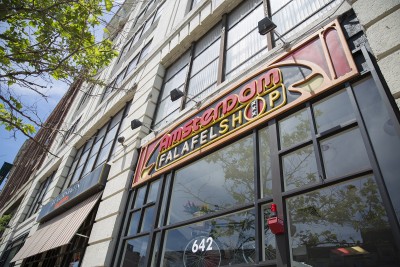 Amsterdam Falafelshop
642 Beacon St. (Kenmore Square)
Perfect for: Quick lunches, fashionable hand-food, customizable falafel bowls
This branch of Amsterdam Falafelshop is a favorite on campus. Located in Kenmore near the BU Barnes & Noble, the vegetarian-friendly restaurant is convenient for students in both Central and East Campus, and is worth the trek for those living in West. Amsterdam is basically the falafel-serving equivalent of a self-serve frozen yogurt place. You choose either a bowl or a pita sandwich, and get to pile as many toppings as you'd like onto your falafel. While the toppings are all amazing, the best part is actually the condiments offered for your Belgian-style fries. Both the peanut sauce and curried ketchup are so tasty that it's worth getting extra just to eat them plain.
Crispy Crêpes Café
714 Commonwealth Ave. (Central Campus)
Perfect for: Breakfast food, Nutella and fruit crêpes, savory lunches
After five long months, the popular Crispy Crêpes Café finally reopened at a new Central Campus location in April, after serving students for 13 years in South Campus. Stop in for breakfast, lunch or dinner, and enjoy either a hearty meal or a sweet dessert while people-watching from a window seat above Comm. Ave. Its new, closer location makes it a great destination for a lunch break between classes, and its strawberry and Nutella crêpe is the perfect post-test pick-me-up!
Rhett's
775 Commonwealth Ave. (George Sherman Union)
Perfect for: Bagels, cheap Starbucks coffee, all-around comfort food
Rhett's is often overlooked as a breakfast option at the GSU due to its reputation as a sub-par burger joint, but its bagels are actually some of the best on campus. You get to pick from a variety of bagel and cream cheese flavors, like a tomato-basil bagel with pesto cream cheese. Rhett's also serves Starbucks coffee for a lot cheaper, making it a great stop to make in the morning — and it takes dining points!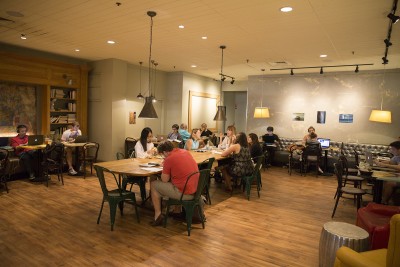 Pavement Coffeehouse
736 Commonwealth Ave. (Central Campus)
Perfect for: Bagel sandwiches, coffee dates, studying 
Pavement is extremely popular with BU students, as is evident by the usual traffic jam on the sidewalk right outside. It offers a variety of breakfast foods and drinks throughout the day, the best being the bagel sandwiches and iced mint lattes. Whether you're just stopping by for a quick cup of coffee or are studying for midterms, Pavement's got you covered. Just make sure you get there early if you want to score a seat!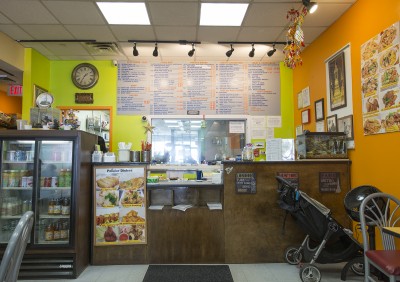 Nud Pob
738 Commonwealth Ave. (Central Campus)
Perfect for: Takeout, Thai food cravings, huge portions
Right next door to Pavement, Nud Pob is a gem. If its year-round Christmas lights don't immediately draw you in, the delicious smell of Panang curry certainly will. Nud Pob is a tiny Thai restaurant in the center of campus, making it an ideal choice for Thai takeout for students living anywhere. It also offers free delivery, making it even easier to get pad thai or yellow curry delivered right to your door.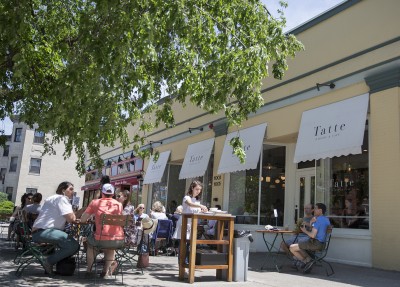 Tatte Bakery and Café
1003 Beacon St. (Brookline)
Perfect for: Brunch, COM lawn picnics, classy Instagram photos
Since poor South Campus-dwellers are relatively far from BU's dining halls, it is only fair that they get to live near a wonderful bakery like Tatte. The European-style bakery will make you feel like you're eating on the streets of Paris. Not only are the marble counters and white-tiled walls of the café itself aesthetically pleasing, but its sandwiches and pastries are also so beautiful that you'll want to take a picture of them before every single bite.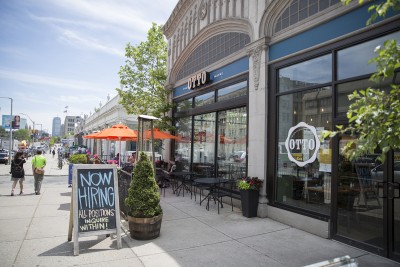 OTTO Pizza
888 Commonwealth Ave. (West Campus)
Perfect for: Thin crust pizza, dinner before the game, weekend pit stops
As you've probably already noticed, hockey is a big deal at BU. Food at the game can get pricey though, so it's a smart move to stop for dinner beforehand. Located a short walk away from Agganis Arena, OTTO Pizza is the perfect choice. You can buy pizza by the slice, or share an entire pie with your friends. OTTO also offers many unusual combinations of toppings, many of which are vegetarian-friendly, such as butternut squash, ricotta and cranberry. There are even gluten-free options for pizza lovers with gluten sensitivity. What's not to love?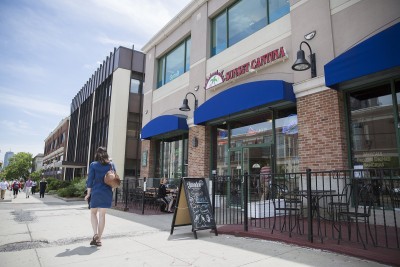 Sunset Cantina
916 Commonwealth Ave. (West Campus)
Perfect for: Enormous servings of nachos, dinner with the buds, drinks (in a few years, freshmen)
It is absolutely essential for BU students to visit Sunset Cantina at some point in their four years here. This is an easy goal to accomplish, though, as its convenient location on West Campus makes it a popular destination. While Sunset is a favorite among older students for its drinks, those who are underage can still enjoy the extra-huge servings of nachos, among other foods, that it has to offer.
FoMu
481 Cambridge St. (Allston)
Perfect for: "Healthy" ice cream, a treat after a difficult exam 
After a nice meal, why not top it off with some ice cream? While ice cream may not qualify as health food, FoMu makes up for it by using coconut milk as an allergy-friendly base and organic agave nectar as a sweetener. When combined with fun ingredients, the result is a host of innovative flavors from mango habanero to rosewater saffron. The only downside is that FoMu is a bit on the pricier side, but this makes it the perfect candidate for a post-exam treat.
root
487 Cambridge St. (Allston)
Perfect for: Vegetarians, fresh juices, casual date night 
With locally sourced fruits and vegetables, root is all about fresh, feel-good food. While it may be a vegetarian restaurant, root still appeals to all food lovers, with options ranging across many cuisines. Quesadillas, hushpuppies and Italian-inspired sandwiches are just a few of the options you'll find on the menu. Especially good is the Macrobowl, which consists of unique ingredients like quinoa, pickled carrot, nori and gochujang aioli. In addition to these dishes, root is also known for its fresh juices, which are served in adorable 12 oz. mason jars.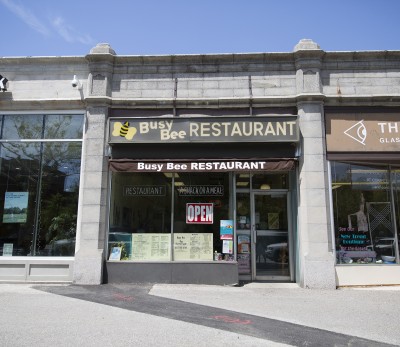 Busy Bee Diner
1046 Beacon St. (Brookline)
Perfect for: Easy brunch, cheap meals, deliciously greasy diner food
There comes a time in the semester when the need for comfort food is at an all-time high. This is precisely where Busy Bee comes in to save the day. The restaurant is most accurately described as "no-frills," due to its '50s diner feel. With its vinyl booths and cash-only policy, Busy Bee is far from swanky, but these aspects only add to the overall charm of the place. All of this is nicely complemented by the simplicity of its breakfast food and super cheap prices. Broke college students, rejoice!