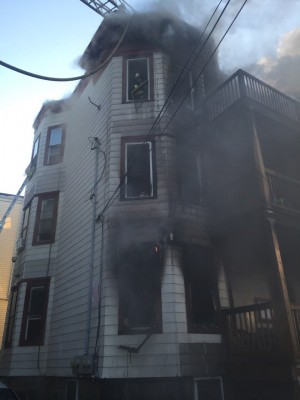 Ten people were displaced in a heavy three-alarm fire on Linden Street Sunday evening, fire officials said.
The fire at the three-story Allston home at 27 Linden St. broke out at around 7 p.m., the Boston Fire Department wrote on Twitter. No injuries were reported and the cause is under investigation.
Damage is estimated at $750,000, Boston fire spokesperson Steve MacDonald said.
Five adults lived on the first floor, a family with three children lived on the second floor and one adult was on the first floor.
"I was at my desk, and someone came running upstairs, saying there's a fire," Gabriel Senor, a recent Boston University graduate who was living in the building, said.
Senor, who is subletting for the summer, said the blaze spread once everyone evacuated the apartment.
The fire started on first floor, then extended to second and third floors and burnt the balcony to charcoal black, according to Boston fire.
"At first, you could see the flames coming out of the window," said Brittany Mover, 24, a neighbor. "The next thing you know, the whole street was in a fog."
Seems to be heavy damage on all levels, still waiting for a cause of fire at 27 Linden @dailyfreepress pic.twitter.com/8xNyLgm8l0

— Samantha J. Gross (@samanthajgross) June 27, 2016
Another neighbor, Rochelle Dunne, said she knows the family that lived on the second floor, and that the parents are currently in Lynn. "They're going to have nothing left," she said.
— Boston Fire Dept. (@BostonFire) June 26, 2016