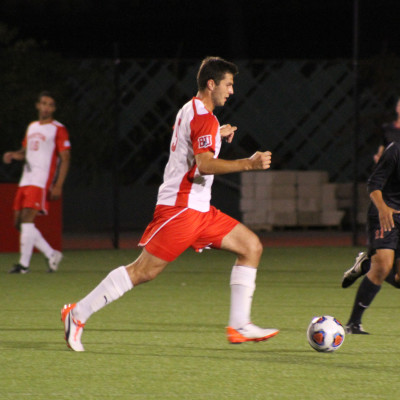 The Boston University men's soccer team on Tuesday released its schedule for the 2016 season, which includes a number of non-conference games against formidable opponents, as well as a few Ivy League sides and other regional rivals.
The Terriers' (12-6-2 in 2015) first contest of the year will be against Boston College (11-8-2) on Aug. 28. BC is ranked 11th in the NSCAA pre-season coaches poll.
Despite this tough opponent to start the season, BU head coach Neil Roberts, entering his 32nd year at the helm, feels that the two pre-season scrimmages against the University of New Hampshire (10-5-3) and the University of Rhode Island (10-8-2) will give him enough time to see who stands out before facing their Commonwealth Avenue rivals.
"It's always a matter in the first weekend of getting the kinks out and figuring out how the new guys will help and how they will fit in," said Roberts, who brings in eight freshmen this year. "We'll get a good look at some guys in those scrimmages, and it will give us a good idea of what to do."
The Terriers will open September with a two-game homestand against two regional rivals who did not have much success in their 2015 campaigns: the University of Massachusetts Amherst (5-13-1) on Sept. 10 and Northeastern University (3-12-2) on Sept. 13.
In terms of non-conference games, the Terriers will have four Ivy League contests this year: at Princeton University (10-5-2) on Sept. 16, against Brown University (10-5-2) on Sept. 20, at Harvard University (9-6-2) on Sept. 27, and against Ivy League champion Dartmouth College (12-6-1) on Oct. 18.
Conference games to note include a rematch of last year's Patriot League semifinal against American University (14-5-3) on Oct. 1; last year's Patriot League regular season champion Colgate University (10-7-2) on Oct. 5; the 2015 Patriot League champion Lehigh University (13-6-3) on Oct. 22 and the Turnpike Trophy match at College of the Holy Cross (6-8-4) on Oct. 26.
With those conference matchups in mind, Roberts is mainly focused on the first league game on Sept. 24 at Bucknell University, a team BU has never won a game against.
"I know it sounds like a cliché," Roberts said, "but in league play, the points are so important, and you just have to worry about that day."