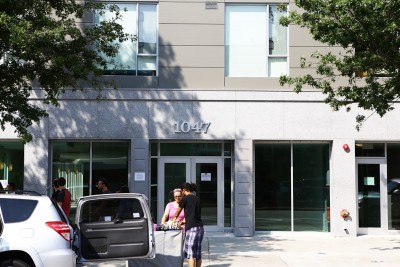 Boston University students who live at 1047 Commonwealth Ave. said they had a "love-hate" relationship with the new, air-conditioned, apartment-style university housing.
The problem was that students did not know what to expect, according to Jennifer Elias, a junior in the College of Communication. None of them saw the layout during March's room selection, as the building was completed and furnished during the summer.
"I love [how] everything is new, like a brand new dishwasher, new shower and new stoves," Elias said. "But it is a little smaller than I thought it was going to be."
Marc Robillard, executive director for BU's Auxiliary Services, said the building serves as a two-year temporary replacement to accommodate students who used to live in Myles Standish Hall and Myles Annex, which are under construction until August 2018.
1047 Commonwealth Ave. was originally planned to house the Sassoon Academy hairdressing school. When the deal fell apart, a Cambridge-based developer, Urban Spaces LCC, was going to build studio apartments. The developer then agreed to BU's request to lease the property for student housing, The Daily Free Press reported Feb. 10.
"At one time we wondered if they should build to our specifications on how we would put together a student residence," Robillard said. "Then we decided that didn't make sense from a business perspective for either one of us, so we had them continue building their 180-studio apartment."
Robillard said he understands that units are not spacious, but he said students are going to be happy because the appliances, bathrooms, air conditioning and location for the building are all "fantastic."
Some students, however, do not agree with Robillard. Nikita Malhotra, a junior in the Questrom School of Business, complained that some rooms are unusually larger than others.
"It's weird how it's set up because some rooms are so big, and then our room is so tiny," she said. "It's like you get off your bed, then there's the kitchen, then there is no space for anything. It's like an extended dorm."
Although the building is fully constructed, and students were able to move in on Wednesday, the university is still looking to add a few "punch list items" by the end of September, including cable television and ethernet connection, Robillard said.
"We hope to have these things done faster," he said. "But there could be some small things that we will continue through. I don't think it will affect anyone's quality of life though.
Among all new items the university plans on installing at 1047 Commonwealth Ave., Hannah Williams, a junior in the College of Arts and Sciences, said she would love to have solid curtains to replace thing windows shades that she has right now.
"We have two huge windows. They are beautiful, they let in a ton of natural light, and it's really nice," she said. "But we only have shades to pull down, so it doesn't make a difference up or down. You are still getting a ton of light."
Williams said her room is so bright that she was "chilling" in her bed today with sunglasses on.
"I wish they had curtains so you could choose whether or not to have the sunlight," she said.