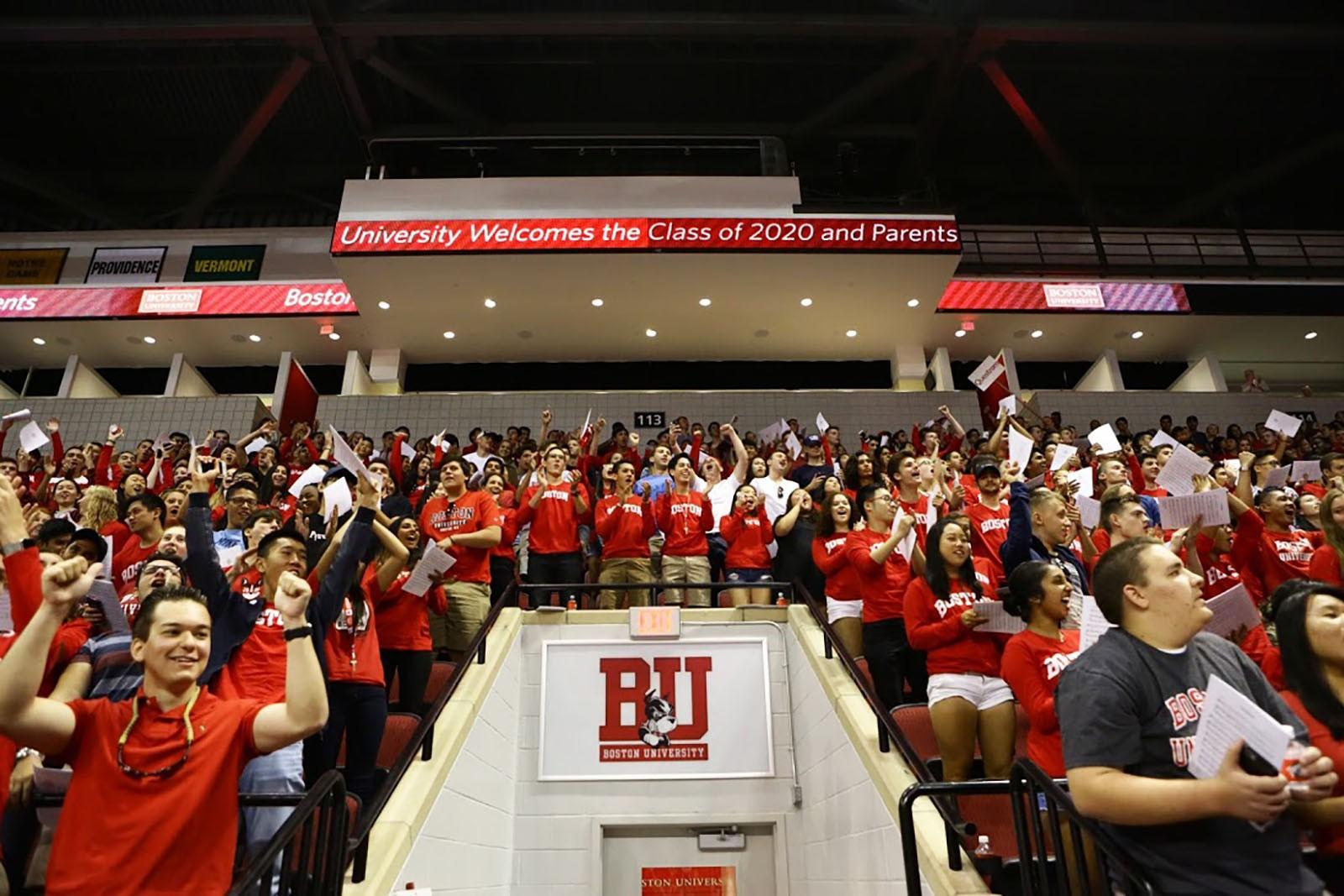 Dressed in scarlet and white, Boston University's Class of 2020 followed the BU Marching Band down Commonwealth Avenue and toward Agganis Arena Sunday afternoon. Once there, the approximately 3,700 incoming students sat with their families and friends, and were officially matriculated.
Hannah Harn, a freshman in the College of Communication, said that she was thrilled to be at the ceremony.
"Now it's real for a lot of us," Harn said. "I'm mostly just really excited to start taking classes and getting involved on campus."
BU President Robert Brown encouraged students to embrace the diversity that exists on campus, especially during a time of tension and conflict throughout the world.
"My most important advice to you as you start your time at BU is, as the Nike commercials say, 'Just do it.'" Brown said. "Deepen your understanding of the world, embrace its wonderful diversity through the portal of BU."
Stefano Calvagno, a freshman in the College of General Studies and an international student from Italy, said he was ready to take advantage of living in the city of Boston.
"I've only been here for four days, but I've only found so much more than just academic stuff to do," he said. "I see so many successful people coming out of here, and I really see that my future can be as bright as possible."
President Brown also advised students against drinking and using marijuana. He suggested students get involved on campus instead and become student leaders, like those who completed more than 16,000 hours of community service in the First Year Student Outreach Project.
"Raise your sights at BU and ensure that your education here prepares you for a life of living up to that charge," he said. "Your time here is precious. Use it well."
Muhammad Zaman, a professor in the College of Engineering, gave a faculty salutation. He said all students at BU have great potential, and they should take full advantage.
Student Government President Jake Brewer also addressed the incoming class. He focused on the importance of a unified student body in the face of adversity, and suggested students come together to overcome hardship.
"Uniform solidarity in most of our student body is needed in order to face certain issues that affect this campus, and this nation," Brewer said in his speech. "I can think of very few things that affect the welfare of this university that over 16,000 students can't take on together."
Brewer, a senior in the College of Arts and Sciences, said before matriculation that the main theme of his speech was that students should follow their passions, instead of looking for opportunities to make their résumés better.
"Résumé-padding activities are self-defeating," Brewer wrote in an email to The Daily Free Press explaining his speech. "Time is better spent working towards making a real, tangible impact at BU and elsewhere."
In his speech, Brewer reminded students that this is their time to discover themselves and their own interests.
"Find your own path," he said. "The beauty of the institution that you are now a part of is that there are people here who blaze trails, and each of you will undoubtedly do the same."
Dillon Cronin, a freshman in CGS, said that he is looking forward to getting involved on campus.
"There's a strong sense of community at this school," he said. "I'm excited to get to meet new people and live in the city of Boston."