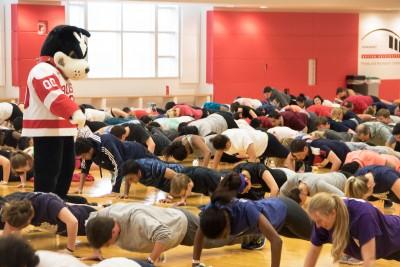 When students start college, they are usually prepared to see big changes in their social and academic lives. A new study, however, has found that students' exercise habits may also change when they start at a university.
Two researchers from the Mannheim Institute of Public Health, Social and Preventive Medicine surveyed 689 college students for the study, published in the September issue of "Science and Sports." The researchers found that the proportion of students who reported decreased physical activity was significantly higher among those in their first through third semesters of college than students who had been in college longer. In addition, students who moved to a new city for college were more likely to have less physical activity than those who did not change residence in between high school and college.
Dana Steinmetz, a junior in Boston University's Sargent College of Health and Rehabilitation Sciences, said the change in physical activity between high school and college may be the result of less structure and outside motivation to exercise.
"We probably should make [physical activity] more of a priority," Steinmetz said. "It tends to fall down the list when we have schoolwork and stuff like that."
Additionally, students have more access to organized sports in high school. Having a pre-determined schedule to follow makes it easier to exercise, according to BU's Resident Athletic Trainer Leyla Kuz-Dworzak.
"Most high schools have different levels within the same sport," Kuz-Dworzak said. "So even if your skill level isn't as advanced, you have those opportunities to partake in physical activity, and once you reach the collegiate level, you either have to be recruited or walk on [to a sports team]."
Joan Salge Blake, a nutrition professor in Sargent, said there are many health benefits that come with exercising regularly in college that can make life easier down the road.
"Having the ability to de-stress and do some physical activity is very positive," Salge Blake said. "It's one of those habits that's great to get into early in your life."
Steinmetz agrees that exercise can be beneficial from a young age, which is why physical education classes in elementary, middle and high school are so important.
"Starting kids off early and getting them in the habit of it is such a good thing, especially with the childhood obesity epidemic," Steinmetz said. "Promoting exercise is always a good thing."
Salge Blake said "physical activity" doesn't only mean going to the gym or playing a competitive sport. It can also include walking instead of taking public transportation, or playing a casual sport with friends.
Requiring physical education classes at the college level might not be as effective as high school or elementary physical education classes, Kuz-Dworzak said.
"Once you get to college, it's about making decisions for yourself," she said. "I don't necessarily believe that forcing people to take P.E. classes will force them to lead a more active lifestyle outside of the classes."
Jay Patruno, a junior in Sargent, said that with BU's long campus, it is actually easy to fit physical activity into students' busy schedules.
"It can be as simple as getting your friends together and kicking a soccer ball around or walking between classes instead of [taking an Uber] or the T," Patruno said. "It's unfortunate that people put it on the back burner because it has so many benefits besides physical appearance."
The study also found that students who traveled far from home to attend a university tended to exercise less than their counterparts who stayed local for college.
Steinmetz said this might be because going somewhere far away — especially international — requires getting used to the culture, and exercise usually isn't as much of a priority to students as securing social circles early on in their college careers.
This trend, according to Salge Blake, may also be due to the fact that it is hard for students to create a whole new workout routine after playing the same sports or going to the gym on a set schedule in high school.
"If they stay local, they still have access to their routines that they grew up with — their gym, their friends that want to work out," she said.
Amount of physical activity varies greatly from school to school, though, according to Salge Blake. She said BU students are probably more motivated to exercise than students who attend colleges without a new gym like the Fitness and Recreation Center, which is included in students' fees and has plenty of equipment.
"It's a center that supports positive lifestyle changes beyond just exercising," she said. "There are wonderful mechanisms in place in the university. It just becomes part of your lifestyle."