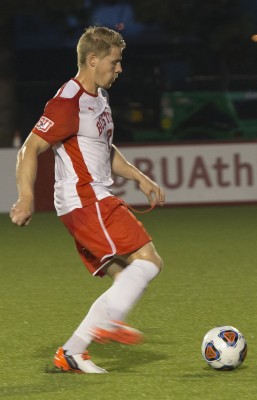 The Boston University men's soccer team might have started its season off on a shaky note with a 3-2 loss to Commonwealth Avenue rival Boston College, but its prospects are looking good for the rest of the season.
The Terriers (0-1-0) made a name for themselves in the Patriot League last season, going 12-6-2 in the regular season and racking up a 6-1-2 conference record, good for second place. Despite losing in the Patriot League semifinals, BU earned an at-large bid to the NCAA Tournament, and made its 15th career appearance in the NCAA postseason, and the 14th under head coach Neil Roberts.
Not much has changed in terms of the complexity of the Patriot League from 2015. American University will return five of its eight all-league selections, Colgate University possesses Patriot League Offensive Player of the Year Ethan Kutler for one more season and Lehigh University is beginning the 2016 campaign with leading goal-scorer sophomore Mark Forrest.
That's also not considering the amount of reloading the other teams in the conference have done, and Roberts knows that every team in the Patriot League has a shot at the title.
"The Patriot League is very competitive this year," said Roberts, "but we just have to worry about hitting our stride."
The Terriers only lost four seniors from last season, which included starting defender Jeroen Blugh, forward Lucas McBride and All-Conference Third Team midfielder Richie Robinson.
While BU will lean on its eight-man freshman class to fill those roles, the team returns junior midfielder Anthony Viteri and senior back David Asbjornsson, who both snatched preseason All-Patriot League honors.
Senior goalkeeper Matt Gilbert, who averaged 1.06 goals against last season to go along with seven shutouts, also returning. The Madison, New Jersey native, who last season was the first BU goalie ever to win Patriot League Goalkeeper of the Year, was also chosen for the preseason Patriot League team, and will have most of his defensive core returning in front of him.
Leading the Terrier offense this year is another preseason All-Patriot League team selection in senior Felix De Bona, who led the team with nine goals and 20 points last season.
Despite having to rely heavily on his senior class, Roberts will turn to two-time Patriot League Rookie of the Week recipient T.J. Butzke, as well as a strong freshmen class, to lighten the load.
"De Bona is going to have other jobs on this team — besides being the main offensive scorer — like everyone else," Roberts said, harping on the importance of the other 10 men on the pitch.
The Terriers will have had a full 13 days of preparation before they next take the field this Saturday against the University of Massachusetts Amherst. Roberts knows what his team needs to do before this matchup, and echoed the players' excitement in getting another opportunity at postseason glory.
"It's some kind of work in progress, but we are ready for this season," Roberts said.