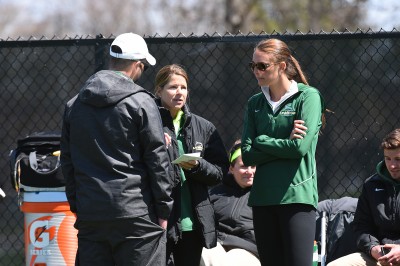 Coming off its first 10-win season since 2012, the Boston University women's lacrosse team is looking for more improvement this season with the help of new personnel.
On Tuesday, the Terriers announced the hiring of Jessica Antelmi as the team's assistant coach. Antelmi comes to BU having already had experience as an assistant at Division II powerhouse Le Moyne College, where she served under head coach Kathy Taylor for two seasons.
In those seasons, Antelmi helped lead the Dolphins to two NCAA Final Four appearances, mentored Erica Geremia, the Division II Attacker of the Year, and developed seven future First Team All-Americans.
BU head coach Liz Robertshaw said Antelmi's track record with working under stalwart coaches — who offered nothing but praise for her coaching abilities — made the hiring all the more sensical.
"She worked for Kathy Taylor, who's just a fantastic coach in the women's game and someone who I look up to," Robertshaw said. "The fact that she's worked for her for three years stood out as someone who I wanted to learn more about."
Though some of Antelmi's recognition comes from her solid track record as a coach, Robertshaw also knew Antelmi from her playing days on University at Albany-SUNY's lacrosse team.
"I had the opportunity to watch her play her collegiate experience at Albany when we [BU] were in the America East [Conference], so I got to see her do well for that team," Robertshaw said.
Robertshaw even endured some tough losses against her new assistant's Albany squad when Antelmi, a 2013 graduate, was still a player.
"I also was on the end of some of those losses to Albany because of her and some of her teammates, so that was something that stood out," Robertshaw said.
As the newly appointed assistant for the Terriers, Antelmi is expected to provide some major contributions offensively. She will be inheriting responsibilities for a BU side that averaged just 8.83 goals per game last season as well as a meager 3.11 assists per game, which was sixth best in the conference.
Robertshaw said she expects to see her assistant improve the Terriers' offensive efficiency, as they scored on just 39.3 percent of their shots a season ago.
"I want her to bring her identity as an attacking coach to the team," Robertshaw said. "I want to see what she can do with our attackers. We have a nice balance of young players as well as veteran players, and I want to shake up and see what they can do on the field."
While spicing up those offensive numbers is definitely a priority in helping the Terriers advance further into the Patriot League Tournament, and possibly reach the NCAA Tournament, Robertshaw saw Antelmi's potential in another important category: her winning past.
"I want her to bring her experience of winning [to the team]," Robertshaw closed. "Both from Albany, when they won the America East Championship, as well as going to the NCAA Tournament and in her coaching career going to three Final Fours, that's huge."