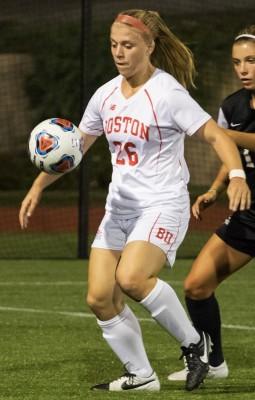 Coming off a season where it went an impressive 13-6-3, the Boston University women's soccer team is striving for more success this fall despite struggling through the first six games.
With the Terriers (0-6) coming into 2016 fresh off a Patriot League title and an appearance in the NCAA Tournament, expectations are high surrounding the program. But thus far, the beginning of the season resembles last year's all too closely.
BU head coach Nancy Feldman noted that although the years may seem similar on the statsheet, each season has its own story to tell.
"Every season is actually its own entity," Feldman said. "That's what I love about being a coach, is that you get a whole new group of student-athletes and hopefully the good things about your culture don't change.
"We feel like we have had a pretty strong culture over the years and found a formula for success, but every year is almost like a new beginning."
BU started off the year in 2015 poorly with a record of 0-4-2, but was eventually able to find its groove, winning 13 of its last 16 games while outscoring opponents 34-14 in that span.
This season has proved to be much of the same, as the team is winless and has been outscored 12-2 during the six-game losing streak.
Feldman's side will look to repeat last season's success, though, with the start of Patriot League play on the horizon. If 2015 is any indication, league play will bring success, as the team went 8-0-1 against Patriot League opponents last year.
The Terriers' road to another Patriot League crown will have major resistance from many in-conference teams, including Bucknell University. The Bison (4-0-1) appear to be BU's biggest competitors, and although the Terriers did shut out the Bison 1-0 in last season's Patriot League Championship, Bucknell is off to a stronger start in 2016.
Offensively, the Terriers are led by the sophomore trio of Dorrie Varley-Barrett, Julianna Chen and McKenna Doyle, each of whom filled the statsheets in their rookie campaigns.
As the offense continues to develop, strong play in the Terriers' backfield will be key for them to contend in the Patriot League.
In net, Feldman has opted to use both junior Hannah Ciolek, who has started four of the team's first six games, and senior Bridget Conway, who has started two. Feldman explained that part of this decision has to do with skill, while an injury to Conway is the other part of the equation.
"This year it happens to be that we're sharing more time because it is more competitive," Feldman said. "They're closer together in ability, but also because we've had injury so Hannah Ciolek got her opportunity this year to play the last couple of games because Bridget had been injured. What's good about that is Hannah has been ready for her opportunity."
One thing BU does have on its side veteran experience. Despite the losses of key contributors like forward Jenna Fisher and midfielder Clare Pleuler, BU is in good shape with its upperclassmen leadership this season.
Twelve upperclassmen returned from last season, including key contributors like Conway, senior defender Rachel Bloznalis, junior forward Christina Wakefield and junior midfielder Jesse Shreck.
Of these 12, four are seniors. Feldman said she expects a great deal from her seniors, and they almost always deliver.
"We really count on [the seniors] to model on and off the field, a high level of commitment to being a student, to being a citizen, to being an athlete, and this year's group of seniors has been no different than the other years," Feldman said. "They've taken that responsibility really seriously."
One example of this "high level of commitment" is Bloznalis, an Upton, Massachusetts native who has been both an All-Patriot League First Team member and a Patriot League Academic Honor Roll recipient during her time at BU. Although this year's seniors have a strong presence on and off the field, so does each senior class.
"It's kinda like when you have a lot of kids," Feldman said. "You don't really compare your kids — you love them all — and in a lot of ways, you don't really treat them all the same way because they have their own personalities, their own motivations and dreams."