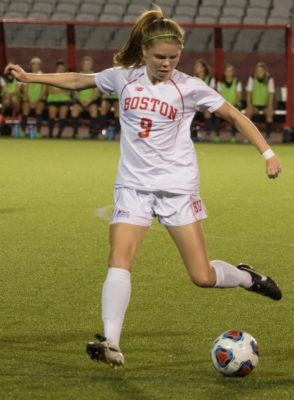 Having gone four straight games without surrendering a goal, things seem to be clicking for Boston University women's soccer as they move into the thick of league play.
The Terriers (4-5-3, 2-0-1 Patriot League) have shutout American University, Dartmouth College, Lehigh University, and most recently College of the Holy Cross. For head coach Nancy Feldman, the key to the team's improved defense lies in key strategical changes.
"Team defending, good organization, attention to detail, feeling confident in their role as part of the unit breeds clarity in movements," Feldman said. "We've tightened up the critical areas, defensively, which was an issue in early games."
No matter how long it's been since her team has allowed a goal, Feldman is steadfast in her belief of keeping her team focused on the next game.
"None of that stuff matters. It just matters what we do next," Feldman said. "There are no streaks or anything, to me, that has any application as to what's going to happen next. What happens next is dependent on how we play next."
One of the biggest factors in the streak is the emergence of freshman goalkeeper Amanda Fay. The Atkinson, New Hampshire native was forced into action after senior goalie Hannah Ciolek suffered an injury. Fay has started in the Terriers' last five games, including all four games of the shutout streak.
"We needed a goalkeeper to step up," Feldman said. "From the beginning when she got here [Fay] has proved to be strong and physical as well as demonstrating confidence and poise beyond her years. Her approach has been very consistent from the first day she got here till now, irregardless if she was the reserve goalkeeper or the starter."
Despite the defensive prowess, Feldman still said she believes the team has room to improve on the offensive side of the ball.
"We need to continue to create attacking opportunities," Feldman said. "Doing so with attention to possession and attention when to go aggressively forward and how to do these two things better. It's the decision-making of it and then the execution of it."
Leading the way offensively for the Terriers thus far have been senior Christina Wakefield and freshman Anna Heilferty. Wakefield has four goals and one assist. She scored the lone goal in the Terriers victory over Holy Cross and ranks third in the Patriot League in goals scored.
Heilferty has added two goals and two assists, and she proved to be a welcome addition to the team by starting the last eight contests.  
Looking ahead to Lafayette, the Leopards (3-4-2, 1-1-1), led by junior midfielder Katie Brannigan, are coming in fresh off of a 1-0 win over Army. The England native leads her team with six points on the season, which ranks her fifth in the Patriot League, just after Wakefield and her nine points.
But for Feldman, her biggest key to victory is staying within themselves as a team, she said.
"Today is focused on an assessment of our game," Feldman said. "We don't focus on the other team until the day before a game. It'll be a competitive match based on their last result against Army."