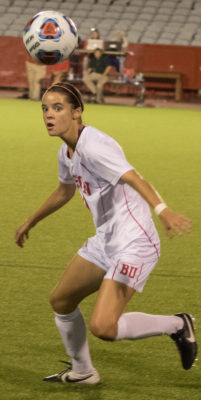 For Boston University women's soccer, conference play has been a welcomed sight for the team over the past few years.
With such a difficult non-conference schedule, facing teams such as the University of Louisville, University of Cincinnati, Arizona State University and the University of Arizona, the Terriers (3-5-2, 1-0 Patriot League) arrive at conference play battle tested.
Head coach Nancy Feldman embraces the tough non-conference schedule, saying it shows what her team is made of.
"It serves to get us to know what our strengths are and what our weaknesses are," Feldman said. "It exposes us, it challenges us, it helps us in the conference because you certainly want to be exposed early in the season when you have time to fix things."
For Feldman, the tougher competition brings out the best in her team.
"We want to become the very best soccer players, and soccer team we can be. The only way you do that is to test yourself against better or the best [competition]," Feldman said.
For the Terriers, eight of their last nine games will come against conference opponents, starting with Lehigh University.
The Mountain Hawks (5-2-2, 1-0 Patriot League) boast a defense that has allowed 0.67 goals per game and ranks 29th in the nation in average goals against. Despite this, Feldman says her team will not change the way they attack, and will focus on what they do best.
"We don't really think about what we need to do against Lehigh, or what we have to do against Dartmouth, or what we have to do against Colgate," Feldman said. "We want to continue to focus on us, and what are the things we need to do."
For the Terriers, freshman midfielder Anna Heilferty has been a big part of their offensive game plan. The Falls Church, Virginia native is second on the Terriers in goals and points with two and five respectively.
"She's a dynamic attacking player. She's got the skills to strike the ball with her right or left foot. She has a good confidence about her," Feldman said. "She's a good complement to the other players we have. She's been a real sparkplug for us."
Feldman went on to explain many tactical things such as being able to solve pressure, supporting quickly and playing fast, as well as being able to recognize moments when to play direct or indirect. All of these things are aspects of the Terriers game that won't change based on opponent.
For Lehigh, it is sophomore midfielder Annika Jansa who will pose the toughest threat. The Potomac, Maryland native leads the Mountain Hawks in points with three goals on the season, totaling six points.
While Feldman won't change her entire strategy to stop an opponent, certain things can be tweaked.
"We may take tendencies that they have offensively and maybe there is a little bit more looking to play around the back, play through the midfield, or play a little bit more aggressively," Feldman said. "But, not anywhere near huge wholesale changes to what we're doing. We want to imprint our style."