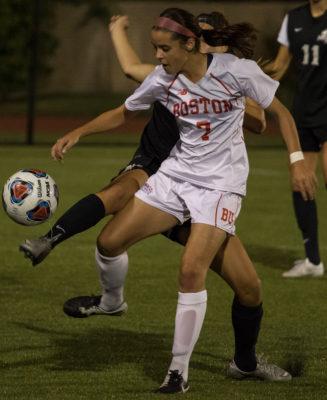 The BU women's soccer team is hoping to avoid an all-too-similar start to their season.
The Terriers (1-3-2) began last season 0-10 before capturing their first victory of the season. Coming off of a road trip in which BU tied both Arizona and Arizona State, head coach Nancy Feldman and her squad are looking to get that needed boost to secure early-season victories.
"We have a very challenging non-conference schedule and that is on purpose," Feldman said. "We're going to have games that [we] are on the verge of winning or potentially not winning. You are playing good competition. We could play easier competition and maybe not be in such tight games."
Feldman also hinted that the team needs to put themselves in the best position to win games.
"We want to … do the things that are going to lead to success," she said. "Sometimes we do those things and they lead to success and other times we are in learning mode and we don't. I don't concentrate too much on what the bottom line is to tell you the truth our goal is to be better at the end of the season then we were at the beginning of the season."
So far this season, the Terriers have been outscored by their opponents nine to six, a sign that their offense needs play with extra motivation.
No player has scored multiple goals, thus far, as all six goals this season have come from different players, with senior forward Christina Wakefield leading the team with three points.
In goal, BU has been paced by senior Hannah Ciolek who has allowed 1.43 goals per game. Last season, Ciolek found herself splitting time with then-senior Bridget Conway. But, with Conway graduating, Ciolek finds herself playing all 90 minutes, something she is adjusting well too.
"It's actually a great formula to have a returning goalkeeper that has had game experience," Feldman said. "Not all the time do you have a returning player who has been your starter solely but it is second best to have a returning goalkeeper that has had some real live game experience in competitive games not just in clean up time and Hannah got that last year which has served her very well."
Feldman also commented on the development of Ciolek from last season to now.
"She is a much different goalkeeper this year than last year," she said. "She is much more poise[d], she is much more confident, the game has slowed down for her. Experience is a great teacher. It's less about her being a full-time player, it's not really that different. What is different is her having last year under her belt. She's using last year experience to have catapulted her to a very different place as far as her presence this year."
In the team's next game, BU will host Marquette. Marquette (5-1) comes in winners of five straight games, as well as holding its last four opponents scoreless. BU's struggling offense will need to get creative to break down the Golden Eagles' defense.
Marquette is led offensively by junior forward Carrie Madden, and graduate forward Darian Powell. Madden and Powell have both tallied seven points this season for an offense that has averaged 1.67 goals per game.
After facing Marquette, BU travels up the road to face rival BC Sunday. The Eagles (4-2) pose an even tougher challenge for the Terriers defense, averaging 2.5 goals per game, ranking 32nd in the nation.dd
BC features a balanced attack, with four players totaling over seven points each. The offense is led by sophomore forward Jenna Bike, freshman forward Sam Coffey, redshirt senior midfielder Lauren Berman and sophomore forward Olivia Vaughn.
Despite the different styles of play Feldman's team might see this weekend, she will not change her the way her team prepares.
"We scout teams, we currently have a couple of things we go into the game being aware of," Feldman said. "Their tendencies, their strong players and what are capable of doing against them. We try to imprint our style, we try to play our game, it sounds cliche but we try to focus more on us than on the other team."