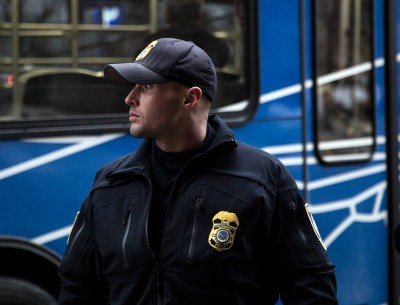 The Boston Police Patrolmen's Association on Tuesday continued its fight to prevent the City of Boston from requiring police officers to wear body cameras, as several union representatives spoke at a court hearing.
The BPPA, which represents Boston police officers in matters relating to employment, filed an injunction against the city in Suffolk Superior Court, according to the release.
During a hearing on Tuesday, BPPA President and Boston Police Department officer Patrick Rose stressed that he is not against the use of body cameras, but believes the program needs to be on a volunteer basis.
"I believe these cameras are going to showcase our members," Rose said at the hearing.  "We have nothing to hide."
The BPPA first filed a lawsuit against the city on Aug. 26 after no officers volunteered for the city's body camera pilot program and it was made mandatory, according to the release.
"There are a lot of questions out there [about body cameras] and we have no answers," Rose said.
The hearing was left unfinished.
In the days following the hearing, BPPA officials were not reachable for comment further on the issue.
The city believes the program needs to move forward without delay, despite the fact that it drew no volunteers, according to a press release from the American Civil Liberties Union of Massachusetts.
"It is alarming and disappointing that a police organization would sue to stop a body-camera pilot program that has been designed to protect both police officers and the people of Boston," ACLU of Massachusetts Legal Director Matthew Segal said in the release.
Rahsaan Hall, director of the ACLU of Massachusetts Racial Justice Program, expressed concern in the release that a delay of the body camera pilot program will endanger citizens.
"Nowhere in its complaint does the police union mention the risk that civilians, especially those in communities of color, will be harmed if this lawsuit succeeds in blocking the Boston body-camera pilot program," Hall said.
Boston residents expressed mixed opinions over whether police officers should be forced to wear body cameras.
Jessica Whitehead, 31, of Dorchester, said she is in favor of the body camera initiative and that she considers officers who refuse to wear cameras corrupt.
"Not wearing [cameras] lets us know they're dirty cops," she said.
Whitehead said she understands the city's call for immediate action.
"This policy should be put in place immediately," Whitehead said.  "We citizens have the right to know what's going on when they make a bust or stop somebody."
Rosa Infante, 42, of Roxbury, also said she supports the body camera pilot program.
"Police officers should have to wear body cameras," she said.  "I don't understand why they wouldn't want to."
Robert Donahue, 47, of Jamaica Plain, said because he has family who work in law enforcement, he understands both sides of the issue.
"What happens if you have two [police] partners sitting in the car and they're talking about someone?" he asked.  "We all do it, and it's not illegal, but they probably don't want it recorded."
Donahue said he's not surprised by the lack of volunteers, but he does think body cameras can help keep police officers and citizens safer.
"I do agree with it because I think it protects the good officers, but on the other hand, it could be considered a violation of their freedoms," he said.