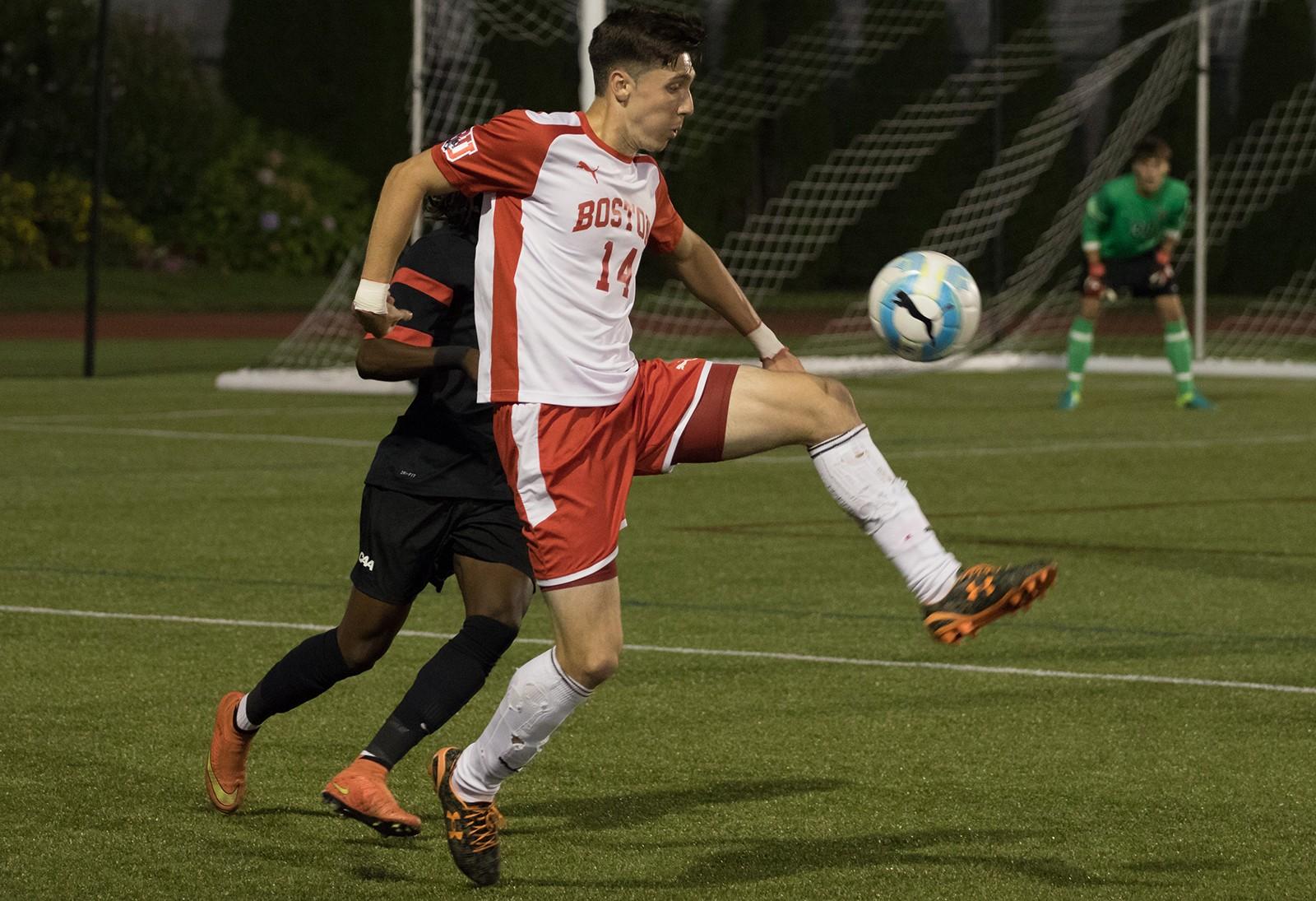 The Boston University men's soccer team struck early and often in its 3-0 victory over Northeastern University Tuesday night at Nickerson Field. That being said, it was an ugly win that featured 31 fouls between both sides and two Northeastern (1-4-0) players sent off.
Outshooting their Commonwealth Avenue rivals 21-5, the Terriers (2-1-0) buried freshman keeper Matt Dambrowski in his first start for the Huskies, and provided the dagger in the second half after Northeastern racked up two red cards in the first.
BU head coach Neil Roberts was not expecting this kind of contest, and was pleased with the win, but was left looking for his team's killer instinct.
"Once we got up 1-0, we were really searching for that second goal," Roberts said. "But there was no flow to the second half, and it was a weird and strange situation."
Senior forward Felix De Bona kicked off the scoring in the 19th minute by sticking with his dribble inside the box, and shooting an easy one past the keeper to give the Terriers an early lead.
Less than 10 minutes later, Husky sophomore Moustapha Samb came in for a slide tackle, but went cleats up against sophomore midfielder Magnus Benediktsson. The move, while argued heavily by Northeastern head coach Chris Gbandi, was dangerous enough to prompt a red card, sending the Huskies down to 10 men.
This prompted a surge in the Terriers' offensive play, as just under five minutes later, junior Anthony Viteri netted his third goal in three games. Coming off of an assist on the first goal, the veteran striker was able to hit a routine one-on-one shot from twelve yards out to bring BU up 2-0.
Viteri, who was named Patriot League Midfielder of the Week just a day before kickoff, credited his play thus far to his midfielders, but was focused more on the win-loss column than his personal trophy case.
"I just try to focus on every single game," Viteri said. "If the awards come with it, that's fine, but I could really care less about it. It's really about if we win."
On both of those goals, Benediktsson provided the assist, and moved to first on the team for assists with four through three games.
A minute after Viteri's goal, another Northeastern player, this time senior Khesanio Hall, was sent off, as he tackled junior midfielder Adam Sheikali from behind for a blatant red card.
Ten minutes into the second half, senior forward Mark Wadid sent a high cross into the box to freshman forward Matt McDonnell, who headed it from six yards out for his first collegiate goal.
Needless to say, senior goalkeeper Matt Gilbert did not see much action on his side of the field before he was pulled due to the lopsided score and numbers on the pitch. He only saw five shots, but did not have to make any saves in order to maintain a clean sheet.
The Terriers only have three days until their next contest at Princeton University, and will travel to New Jersey to face their first Ivy League opponent of the season. While BU's upcoming opponent has had a slow start to their season, Roberts still has his eye on the Tigers (1-2) after this decisive victory, and the tough atmosphere playing at Princeton will bring.
"This game will be the test," Roberts said. "It will be a great atmosphere, and it will be a good opportunity for the guys. Is the moment too big for them or can we put on a show? That will be the key question for us."