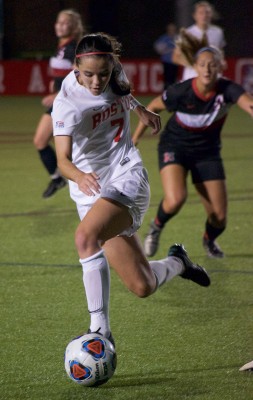 In its non-conference finale, the Boston University women's soccer team fell in its ninth straight matchup, a loss 2-0 against Northeastern University at Nickerson Field on Thursday night.
BU's (0-9) offense struggled early as it was outshot 9-6 in the first half and 3-1 through the first 25 minutes of the game.
The Terriers went into halftime down 1-0, with a clear offensive advantage going to the Huskies (4-4-1). The lone goal in the opening half came from Husky forward Kayla Cappuzzo in the 29th minute.
One of the bright spots for the Terriers through the first 45 minutes was the play of senior goalkeeper Bridget Conway. The Norwell native played an exceptional first half, collecting a pair of saves.
BU came out in attack-mode to start the second half, and BU head coach Nancy Feldman lauded the team's effort after the game. She cited how her team was able to get in more of an offensive rhythm, outshooting the Huskies 6-3 in the final half.
After the game, though, Feldman acknowledged how the Terriers' struggles early in the game cost them in the long run.
"We got punished for not having a first half where we kept the ball better," Feldman said.
The Huskies tacked on another goal in the 74th minute and ultimately won by a score of 2-0. This marked the seventh time BU was shutout through nine games of the 2016 season.
Despite the continued offensive struggles, junior forward Christina Wakefield was a lone bright spot on Thursday night for a Terrier offense that is still finding themselves as a unit. The East Longmeadow native, who tallied eight points and started 21 games a season ago, recorded four of the team's 12 shots, three of which were on goal.
This marks Wakefield's high in both categories this season.
Coming off the bench, sophomore forward McKenna Doyle provided some offensive help, recording two shots and logging 51 minutes.
Feldman praised the Huskies youth, while proving unwilling to discount the youth that the Terriers bring to the table.
"We have good players. They have good players," Feldman said. "Us keeping the ball is the answer to stopping them."
The Terriers entered the season searching for their fourth straight Patriot League championship, something Feldman said she believes is still a possibility.
Feldman said the offense is very close to a breakthrough, citing several missed chances late in the second half from point-blank range.
BU has allowed fewer than two goals in seven of nine games but has only found the back of the net twice all year.
Despite remaining winless going into Patriot League play, Feldman remains optimistic about the team's chances moving forward.
"We are getting more and more comfortable with how we want to play," Feldman said. "While we are making progress, the results can be discouraging. There are a lot of games left that matter."