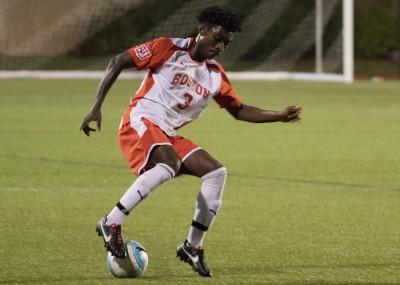 The Boston University men's soccer team will look to rebound from a 2-1 loss to Princeton University against another Ivy League opponent when it takes on Brown University Tuesday night at Nickerson Field.
Despite the disappointing result, BU head coach Neil Roberts said he was mostly pleased with the way his squad played during Friday's loss to Princeton (2-2). However, Roberts was adamant that "the bottom line is, we need to clear up our individual defending."
"A lot of the things we did against Princeton, I think we can carry over," Roberts said. "In most phases of the game, we played pretty well. Obviously, the individual decision-making on defense is where we have got to improve. I think we limited them to not a lot of opportunities, but the ones we gave them were pretty good ones, and that was just due to poor decisions on our part."
The Terriers (2-2) came up short against the Bears (3-2) last season, losing 2-0 in Providence. In the annual matchup, BU has not defeated Brown since 2007.
Since the teams meet each year, Roberts is familiar with Brown's style of play, and while he concedes they are difficult to stop, he expressed confidence in his team leading up to the match.
"Brown's a very aggressive team," Roberts said. "They're high pressure, which will give us problems, so we have to be able to deal with it. When they get a rhythm going, they're very dangerous. We will stand a lot better chance if we try to play our game. If we try to play their game, like we did last year, then we're in trouble."
The biggest priority for the Terriers on the defensive side of the ball will be containing Brown's dynamic duo of forward Nate Pomeroy and midfielder Nico Lozada. The two have combined for 10 points thus far, which is more than the rest of the Bears combined. Both also have a plethora of experience, particularly against the Terriers — Pomeroy scored one of the two goals in last year's game.
Roberts knows that Pomeroy has a nose for the goal and that his team cannot afford to make the same mistakes they made against the Tigers.
"[Pomeroy's] a good goal scorer," Roberts said. "He's a physical presence, he's a big kid, he's throw himself around and works really hard. You can't give him space, he's a good player. We just have to defend him properly and we'll be okay."
On the other side of the ball, the Terriers hope to get into a flow on offense. That will most likely depend on the play of BU's top two goal scorers, senior forward Felix De Bona and junior midfielder Anthony Viteri. Together, De Bona and Viteri have combined for five goals and 11 points while leading the Terriers in shots and shots on goal.
Although DeBona and Viteri seem to be crucial to a BU win, they may well find themselves resting on the bench for some of the contest.
Tuesday's game against Brown is the last match before the Patriot League slate kicks off at Bucknell University this weekend.
Roberts may call on younger players like freshman forward Matt McDonnell and midfielder Jerry Ozor to play big minutes off the bench. This has a dual purpose: giving the young guys more experience while letting veteran players rest. Both moves keep in mind the upcoming Patriot League schedule, which has greater postseason implications than the preceding non-conference slate.
To date, Roberts has been pleased with BU's progression throughout the first four games, and said he hopes that by clearing up defensive miscues, the Terriers will be able to win their first game against Brown in nine years.
"Even though we lost the Princeton game, I think we have seen improvement in most areas of the game," Roberts said. "I would like to be able to improve more defensively, but I think we can play the ball quicker and create more chances than we did against Princeton. We've seen improvement, so now we just have to keep that going and I think we'll be fine."