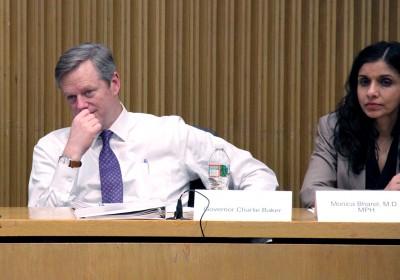 The number of opioid-related deaths in Massachusetts has increased by 350 percent in the past 15 years, according to a report released Thursday by the Baker-Polito administration.
The report analyzed opioid-related deaths from 2013-14 and marked the first time data from several state agencies have been connected to provide an overview of deaths associated with the opioid epidemic, according to a press release from the Executive Office of Health and Human Services.
Women and young people are especially at risk of opioid overdoses, the report revealed.
Fighting the opioid epidemic has been a central project to the Baker-Polito administration since it took office in January 2015, according to the release. Gov. Charlie Baker said this new information will help his administration continue to battle the opioid crisis.
"We are hopeful that new information will help us better understand the contours of this public health crisis as we continue to work on prevention, education and treatment in our communities to combat the opioid crisis in the Commonwealth," Baker said in the release.
Tom Lyons, spokesperson for the Massachusetts Department of Public Health, wrote in an email that the Baker-Polito administration's No. 1 public health focus is the opioid epidemic.
"It requires a multi-faceted approach involving prevention, intervention, treatment and recovery support," Lyons wrote. "The Administration has also worked to increase the number of treatment beds, and expand the availability of all services — from acute treatment, to residential programs, to medication assisted therapies."
Joanna Brown, a program manger for the Activist Lab at the Boston University School of Public Health, said her department has also been doing its part to combat the opioid epidemic in the City of Boston by handing out water to people around the Boston Healthcare for the Homeless Program building in the South End.
"There are people hanging out there all day for doctor's appointments," Brown said.  "They're going to the methadone clinic, and they're going to the needle exchange, so it's a population that's really obviously affected by the opioid epidemic."
While the work of the Activist Lab has made some students in BU SPH more aware of the opioid crisis in their city, Brown said many students remain unaware of the problem.
"I would say for people who aren't really aware about this problem, they should know that it could really affect anyone," Brown said. "We probably all are at least one or two degrees separated from someone who is affected by opioid abuse, so just talking to people really sheds some light on that."
Brown emphasized the fact that opioid addiction is not as uncommon as students might think. In fact, in 2013-14, the report found 18 to 24 year olds accounted for more than a quarter for opioid related deaths.
"When you're actually out there talking to people, you know that these are people who were prescribed a drug … and fell into prescription abuse," Brown said. "They had some other completely common situation in their life that led them down this path, and that could literally happen to anyone."
Several Boston residents said they support the Baker-Polito administration's continued battle against opioid abuse.
Jessica Lynne, 25, of Dorchester, said she thinks raising awareness of the issue could be a good step toward finding a solution.
"People need to pay more attention and not be afraid to ask for help," she said. "In addition, the people that provide that help need to be more receptive on their end."
Olivia Kritzman, 21, of Fenway, said she thinks the problem lies in the drug itself.
"[Some opioids] have fentanyl in them, so a lot of people overdose because of that," she said. "I lived on a trailer park in Connecticut, and it's a big problem there too."
Jackie Chen, 21, of Brighton said he was most concerned about the fact that opioid-related deaths have become most common among young adults.
"I think it's surprising that young adults are overdosing so much," he said. "It's scary because the problem is making its way onto college campuses and we seem to have no way of dealing with it."