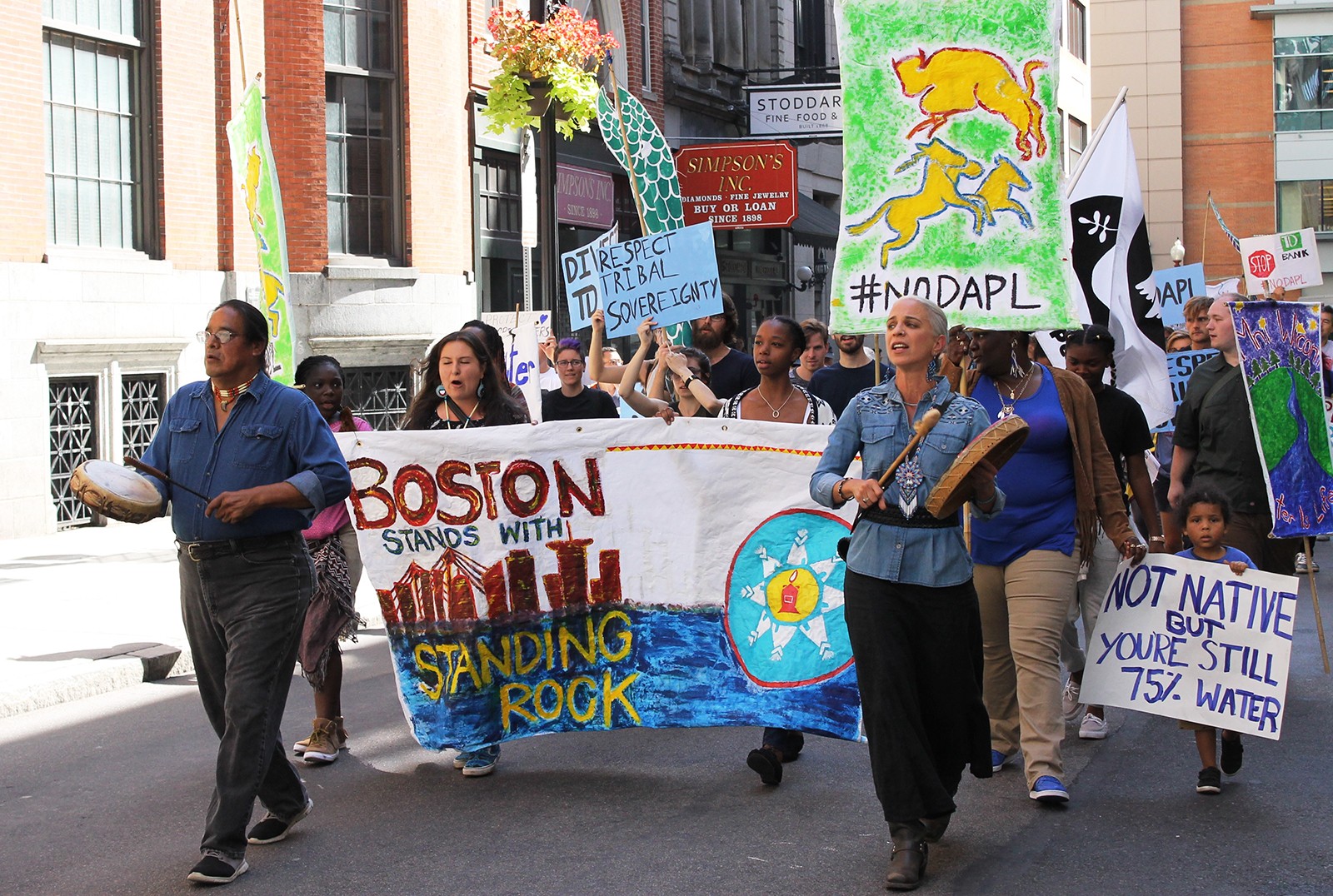 Boston residents and activists marched from the Boston Common to the Charles River Esplanade Saturday morning to protest the construction of the Dakota Access Pipeline Project on the Standing Rock Indian Reservation.
Approximately 60 protesters gathered at the corner of Park and Tremont streets at 11 a.m., when the event opened with a prayer circle lead by Oceti Sakowin spokesperson Tim Swallow and activist Karan Doczi.
Oceti Sakowin is the name of the leadership council of the Lakota people, according to Doczi, while the tribe that lives at the Standing Rock reservation is called the Hunkpapa, a division of the Lakota.
"When we stand together, we can overcome the oppressive structures of this society," Doczi said in her opening remarks.
Mark Schwaller, a Boston activist and coordinator for the march, explained that the title for the march, "Water is Life," comes from a traditional Lakota phrase that expresses the necessity of water for all living things. The title is meant to convey the idea that the oil pipeline threatens the water supply at Standing Rock, and thus it threatens the lives of those living there.
"[Water is] an essential part of life for everyone," Schwaller said. "To be building a pipeline that crosses the Missouri River, which is a major water source for the Standing Rock Reservation, is to threaten those people's lives."
TD Bank, a prominent company in the Commonwealth, is funding about 10 percent of the construction, according to Schwaller. The procession paused outside of a TD Bank branch on the way to the Esplanade.
Farrah Ridore, 22, of Stoneham, who participated in the march, said she is concerned not only for the lives of the indigenous people living at Standing Rock, but also for the greater environmental impacts the pipeline could have.
"If this pipe were to burst, like so many other pipelines have bust in the past, it would ruin fresh water for all the people in that area," she said. "It's just generally not a good idea because it's not good for our environment."
Another participant in the march, Dylan Clark, 25, of Allston, said he sees the pipeline at a violation of the rights of the Hunkpapa tribe.
"The installation of the pipeline disrespects treaties that the federal government has with the native communities, but the federal government isn't doing anything to respect that," Clark said.
The pipeline was previously set to be built through predominantly white neighborhoods, but the location was changed when the pipeline was determined to be unsafe, according to Doczi.
"Part of what also make this highly controversial is the fact that this pipeline was voted down as being too dangerous to put through nearby white communities, yet they rerouted it, putting it right through the ancestral lands of the Lakota people," Doczi said.
Diane Martin, 62, of Cambridge, said that she joined the fight against the Dakota Access Pipeline because she does not support the way the Lakota people have been treated.
"I want to stand with people of color and indigenous populations who have been given a raw deal every step of the way," Martin said. "I am part of a white privileged group, I recognize that privilege and I feel it's important for me to stand in solidarity with my brothers and sisters."