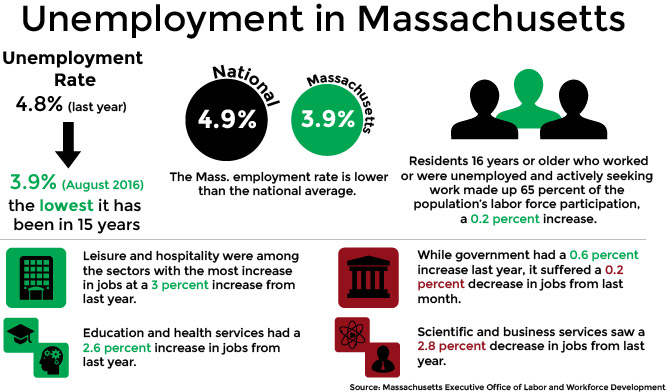 Massachusetts saw the unemployment rate drop from 4.8 percent last year to 3.9 percent this August — the lowest it has been in 15 years and lower than the 4.9 percent national average, the Massachusetts Executive Office of Labor and Workforce Development reported Thursday.
With an increase of approximately 5,900 jobs this month, the Commonwealth had 30,300 fewer unemployed residents and 73,000 more employed residents compared to a year ago. The state added 61,000 jobs from December 2015 until last month, the release stated.
Kevin Lang, an economics professor at Boston University, wrote in an email that the factors behind Massachusetts' decline in unemployment are low interest rates and the businesses' optimism toward the state of the economy — both of which are prevalent across the country.
"Individual states have relatively little control over the macroeconomy, which is the primary factor behind the decline in unemployment," Lang wrote. "Massachusetts does benefit from a highly educated workforce and from high quality public education compared with much of the country."
According to the release, sectors with the most increase of jobs include leisure and hospitality, which gained 0.6 percent from last month and 3.0 percent from last year, and education and health services, which gained 0.2 percent jobs from last month and 2.6 percent from last year.
Meanwhile, professional, scientific and business services saw a 0.3 percent decrease from last month and a 2.8 percent decrease from last year. The government sector saw a 0.2 percent decrease from last month and a 0.6 percent increase from last year.
Overall, the state enjoyed a "steady job growth" in most sectors, EOLWD spokesperson Colleen Quinn said, quoting Secretary of Labor and Workforce Development Ronald Walker II.
"Secretary Walker, the labor and workforce development secretary; Secretary [Jay] Ash, from housing and economic development; Secretary [Jim] Peyser, from education, worked very closely together to make sure education and workforce development are aligned so that people can get the skills that are growing in the state," Quinn said.
The three secretaries announced Monday a $2.6 million dollar grant to community colleges and technical vocational schools to focus on teaching students skilled professions.
Workforce Skills Cabinet just announced $2.6m in capital skills grants! @MassDHE @MASchoolsK12 @MassLWD @MassEOHED pic.twitter.com/qbA3iLm6HC

— MassEducation (@MassEducation) September 19, 2016
Residents 16 years or older are unemployed and looking for work constituted 65 percent — 0.2 percent more than last year's rate — in the population's labor force participation, the release stated.
Though there has been a drop in unemployment rates and the Commonwealth is working to improve employment rates, the numbers do not represent economic development holistically, Lang wrote.
"I would not read a great deal in to a one-month change in any industry," he wrote.
Several Boston residents said Massachusetts has been providing better job opportunities than others states. However, unemployment is still sometimes unavoidable, residents said.
"Someone might have a job, but it might not be at their education level or making enough money to make a good living," Ellen Arnstein, 35, of Jamaica Plain, said. "Probably Massachusetts, particularly in Boston, I think it's the tech revolution, and it feels that a lot of people are more self-employed, so they have more startups. It's a robust market."
Peter Grana, 65, of Fenway, said poverty is inevitable within a capitalist society, where income disparities exist.
"I don't think we're going to be a socialist society where everyone is sort of treated equally," he said. "There's a lot of opportunities for people who are poor — some of them try to move on, some of them don't."
Bolivar Lantigua, 60, of the South End, said the state provides adequate support for those struggling to find jobs, and is performing better than other states.
"They have a lot more jobs," he said. "If you don't have a permanent job, you can go to the [job] agency and [it will] send you to work. Right here, they have more opportunities for jobs than other states, and for housing too."