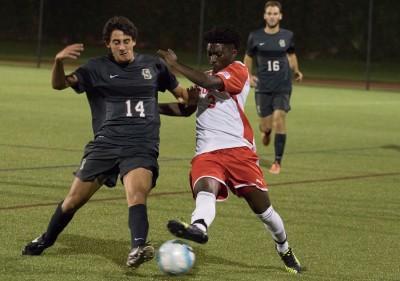 For the first time since 2007, the Boston University men's soccer team defeated Brown University, 2-0 on Nickerson Field Tuesday night.
Coming into the game, BU (3-2) head coach Neil Roberts was focused on containing Brown's (3-3) aggressive offense. However, the Terriers offense proved to be their best attribute against the dangerous Bears attack.
As a team, the Terriers have only allowed one goal at Nickerson Field this season, and Roberts attributes much of that to his offense.
"It comes from possession," Roberts said. "When you tire the other team out, it's hard for them to score. You keep them in their half of the field so they have a long way to go down to score. When the ball's on the ground, even when we lose it, we can compress and we can defend in their half of the field, which is the key."
While the first 20 minutes or so were stagnant, the Terrier offense began to kick into gear thanks to sophomore midfielder Magnus Benediktsson. The Iceland native had a good look from just outside the box, but the ball hit the bottom of the crossbar, costing Benediktsson his second goal of the season.
After Benediktsson's near miss, BU continued to have opportunities in the box, but those were squandered by poor chances that either went wide of goal or were blocked by Brown defenders.
The Terriers finally broke through when freshman midfielder Jerry Ozor found his fellow classmate, forward Matt McDonnell, for the first goal of the game.
"I got the ball on the wing, and it was a 1 v. 1," Ozor said. "I could have crossed it, but I felt like the defender had a head start, so I brought it back. I was going to pass it, but I baited him and he overcommitted, and then it was a free space for me, so I shot it and it went off the keeper and Matt put it in."
The assist meant a great deal to the Ghanaian, who missed the preseason and had to play catchup to the rest of the team.
The Terriers came out of the locker room with the same intensity they played with in the first half.
Once again it was Ozor who cracked the Bears' defense. This time, he delivered a perfect touch to junior midfielder Anthony Viteri, who made a shot from a difficult angle look easy, as he hit the ball past goalkeeper Erik Hanson and just inside the far post.
Ozor seems to be hitting his stride at just the right time too, with the Terriers' Patriot League slate scheduled to kick off Saturday at Bucknell University. Ozor was a clear catalyst on offense Tuesday night, and Roberts believes this is just the beginning of a promising career.
"We know Jerry's a good player, he's just finding himself right now," Roberts said. "He was late for preseason and missing preseason, especially for a young kid, is key. He's just kind of getting his legs now, getting to know everybody and getting a bit more comfortable. He's very talented, he can play on the left side or the right side. I think this is just the beginning of a very long and enjoyable career to watch."