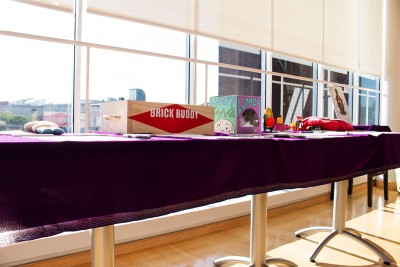 There's a Batman grappling hook, a cardboard story generator and a Lee Harvey Oswald figurine.
These are just a few of the different responses the 13 artists participating in the "Stretch Armstrong, I Loved You" project had to the prompt: create a toy you would have wanted as a child.
"As much as people want to make something for themselves when they were younger," said Micah Stahl, event organizer and participating artist, "it's more what they think of their younger selves now, which adds a whole other level."
Stahl put on the event at The Atrium in Harvard Square last Friday and Saturday. Following Friday's opening show was a silent auction on Saturday to raise money for The ELM Project, which supports children with HIV/AIDS and sickle cell disease.
ELM's longest-running program is their free summer camp for children, Camp AmeriKids. The camp is a chance for city kids grappling with not only medical but often also financial hardships to spend a week just being kids in farm-filled Warwick, New York. They swim (some for the first time), dance and perform plays.
There is also a camp mascot, the statue of Patapootee, that imaginative children frequently give voices to. ELM's Executive Director Erica Quiroz said that German artist Tina Kaden's Stretch Armstrong piece — a wooden, Wall-E-esque robot — would easily have become a mascot like Patapootee.
"I think by end of the week the robot would have a lot of voices and be someone's best friend," Quiroz said.
Although ELM is based in Connecticut, Camp AmeriKids has many volunteers from colleges around Boston, Stahl said. Fundraisers like "Stretch Armstrong" serve as both an opportunity for people to support the nonprofit and get one-of-a-kind, inexpensive art from beginning artists.
For Stahl, the latter is one of the best aspects of "Stretch Armstrong." He likes art that people can afford without having to sacrifice their vacation savings, he said.
"We're definitely not expecting a ton of money for the pieces," said Stahl, who is moving from Cambridge to Los Angeles this week. "This show is accessible."
A more subtle element: many artists contributed pieces outside of their normal disciplines.
Stahl was one of them. While typically an illustrator and writer, he created a sculpture for this project. His Batman-inspired "The Claw! Grappling Hook" features a glittery black spray paint-covered glue gun affixed with fishhooks convincingly fashioned into a hook Batman could scale rooftops with.
Stahl said he got in touch with his inner child for the project's name too. Stretch Armstrong was a gelatinous action figure he proudly owned who "bends," "stretches" and "even ties in knots, but always returns to his original shape!" according to the toy's slogan.
Stretch was a fad, Stahl said. The toy was all the rage in the late '70s and during its re-release in the '90s.
In another universe, Boston artists Tim McCool and Christian Meade's tongue-in-cheek piece "Lumpy" might have been shelved near Stretch at Toys "R" Us. "Lumpy" exists somewhere between Furbies, the once-popular battery-powered hamster-owl toy, and Beanie Babies, the colorful, collectible plush toys. "Lumpy," a white fuzzball, sits in a box, with only its wideset, beady eyes indicating life. On its purple, teal and lime green box, "i <3 Lumpy" is written in loopy cursive, the "i" dotted with hearts.
"I don't know if I would've wanted Lumpy," McCool said, "but I was very susceptible to packaging."
Boston-based copywriter Phaea Crede was the first to bid on Samara Pearlstein's piece "Catasaurus," consisting of clay T-rex, stegosaurus and brontosaurus-cat hybrids. Crede said she was impressed by the entire show.
"It all seems real — like it actually exists — or it's something I didn't know I was missing," Crede said. "Like the dino-cats. Of course that's an intellectual property. It needs to be a kids' show on Nickelodeon."
Crede's 4-year-old son Harvey, a redhead in a David Bowie shirt, agreed.
"Which one is the best?" his mother asked, pointing at the "Catasaurus" figurines.
Harvey's reply was simple:
"All of 'em."