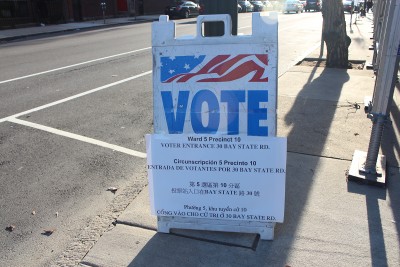 The City of Boston and Mayor Martin Walsh launched its inaugural early voting website, "Vote Early Boston," on Monday, which provides information about how residents can vote up to 10 days before Election Day online, according to a press release.
The "Vote Early Boston" website provides voters with information about the early voting initiative, which was signed into law by former Gov. Deval Patrick in 2014 and was designed to increase voter turnout on Election Day, Walsh's press office said.
"Ensuring all Boston voters are able to vote conveniently, and on their own schedule, is paramount to ensuring voter turnout," Walsh said in the press release.
Boston Elections Commissioner Dion Irish said in the release that the early voting website will provide plenty of information for people interested in voting early.
"We expect that the 'Vote Early Boston' website will serve as an important resource for all voters interested in casting their ballots during the early voting period," Irish said in the release.
Early voting will take place from Oct. 24 to Nov. 4, according to the release, and while City Hall will be the main voting site during normal business hours, other polling locations will also be open on Monday, Wednesday and Friday from 2 p.m. to 8 p.m.
There will also be nine early voting locations in each City Council district from noon to 6 p.m. on Oct. 29, according to the release.
Different from absentee voting, early voting does not require an explanation. Voters can also request early voting ballots by mail and return them to City Hall in person or by mail, the release explained.
"Voting is core to our democracy, and ensuring all voters are able to vote conveniently, and on their own schedule, is paramount," Walsh's press office wrote in an email.
Daniel Aldrich, a political science professor at Northeastern University, said voter turnout in the United States is one of the lowest in modern democracies because there is a lack of trust in elected officials from the people.
"A lack of trust creates a vicious cycle where people do not think that their voices are being listened to, and that their representatives cannot be trusted," Aldrich said. "Under such conditions, people feel less inclined to vote in elections, whether local or national."
Aldrich explained that social ties have a tendency to impact voters' decisions about going to the polls.
"If our friends vote, we are more likely to show up on Election Day," Aldrich said. "If our circle of friends stay away from the voting booth, we will likely abstain as well. 
Although early voting can help people with busy schedules, it ultimately might not increase voter turnout, according to Aldrich.
"Because early voting removes some of the social pressure and excitement from the voting process, allowing early voting may bring down overall turnout," Aldrich said.
Several Boston residents said early voting is a good way to encourage people to go to the polls, although some were not convinced the initiative would make people care enough to cast a vote.
Abigail Aresty, 31, of the North End, said she would use the website if it made her life easier, and it could help those who work or live far from their polling place.
"[Election Day] might be a busy day for them, which happens, but maybe this initiative will help people plan ahead," she said.
Jefferson Morales, 30, of South Boston, said he would only use the early voting website if he really cared about an election.
"If they're having a hard time getting people to vote it's probably because people aren't educated about the issues and the candidates," he said.
Mary McLaughlin, 50, of Fenway, said he thinks early voting will encourage higher voter turnout.
"It seems like the city is giving people flexible hours and really trying to get people out there to voice their opinions," she said.