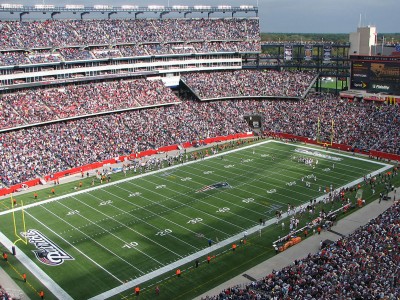 Fans often feel like they are the odd ones out in sports — no matter how hard they cheer, boo and eat their sacred pregame meals thinking it'll help their team, they have no direct impact on the game.
Or do they?
A recent study from Grubhub, sent to The Daily Free Press, found that there are certain "Good Luck Foods" for the New England Patriots, or foods that fans tend to order more before a Patriots victory.
Topping that list is chicken alfredo pasta, which is ordered on Grubhub in Boston almost twice as much before a New England win than a loss. Following that is a trio of Asian foods — dal makhani (152.3 percent more likely to be ordered during a Pats win than loss), tom kha soup (148.4 percent) and yellowtail and scallion rolls (147.2 percent). The garlic knot rounding out the top five at 135 percent.
What about buffalo wings, pizza, and other fatty items? Those items did not even make it in the top 20, so it may be time to switch up that tailgate order.
Some may cry foul about these superstitions, but Boston University sports journalism professor Frank Shorr has covered superstitious athletes like former Red Sox third baseman Wade Boggs — who's famous for eating chicken before every game — for over 30 years.
Beyond the athletes and their routines, Shorr said he believes fans have adopted their own rituals in hopes of having an impact on the game's outcome, and he has one involving food at Boston Bruins games.
"I go to the same concessionaire and get the same thing every game I go to," Shorr said. "I don't even have to tell him what I want when I go up to him, and his name is Ernest … He knows I'm getting a hot dog, a salted pretzel and a large coke, heavy on the ice."
Shorr admitted that since the Bruins are currently in a five-year championship drought, it may be time to switch up the routine.
However, he explained, fans keep these routines as an extension of their past experiences as an athlete.
"Sports fans are an animal to their own in that they firmly believe that what they do during the day has an effect on the game," Shorr said. "It's uniquely absurd that it does, but that's how they feel that they are a part of the game."
Though it's more common on the professional level, BU fans have their own rituals as well. Freshman Brian Harrington does not have anything specific for the Terriers, but he keeps his Tom Brady No. 12 jersey handy every week for the Patriots.
"I always make sure that I have my red Tom Brady jersey clean and ready to go every Sunday," Harrington said. "… And I always make sure I sit in the same seat in my house."
Harrington does not have his own food-related rituals, and while he said he does not believe it has any impact, it may not even matter in Boston. When the football team in your city has made it to the conference championship each of the last five years, the outcome will be the same regardless of fans' "lucky foods," Harrington explained.
"It probably does not have an impact because the Patriots will probably win anyway," Harrington said.
Freshman Charlie Ovens said that while food in college is a matter of convenience, he'll do anything to help his team.
"My friends and I discuss on a GroupMe what crazy but still tasteful cheers we can do today," Ovens said. "We don't do anything else yet, but if the Terriers keep winning, I'll probably look at what I'm eating and wearing and do the same thing."
Not only does he believe in his rituals, but he also feels that the fans' impact on a game, through ritual or cheers, is present in helping a team win or lose.
"I feel just as much as a part of the team as the actual team is, even though I have no actual contribution to the gameplay," Ovens said. "I love the atmosphere that being a fan creates, and I see some smiles on the players' faces like [BU men's soccer freshman midfielder] Jerry Ozor, so I feel like that brings a different atmosphere to the game."