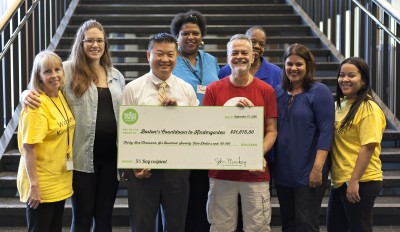 Whole Foods Market donated $31,675 to Boston Public School's Countdown to Kindergarten  program on Monday, according to a BPS press release.
Countdown to Kindergarten, a group within BPS that prepares children for kindergarten, will be using the cash grant to support kindergarten readiness programs, work on kindergarteners' perfect attendance and promote various family activities, Countdown to Kindergarten Director Sonia Gomez-Banrey said.
"We're really grateful for the partnership with Whole Foods," she said. "The donations go to support things that we would normally not be able to support through the Boston Public Schools."
Six stores in Boston, and one in Brookline, contributed 5 percent of their Sept. 7 net sales to Countdown to Kindergarten, Whole Foods spokesperson Chuck Olivieri said.
"We want to make a difference in the city itself, as a group together," Olivieri said. "The school department is an amazing group of dedicated people. It was really, really nice to work with them and see how much they care."
The money was donated as part of Whole Foods' 5% Day program that allocates 5 percent of the wholesale company's sales on a certain day to a local nonprofit or educational organization, Olivieri said.
Whole Foods' collaboration with Countdown to Kindergarten has been active for 10 years, with Whole Foods participating in the annual Countdown to Citywide Kindergarten Celebration in August at the Boston Children's Museum, Olivieri said.
"The kids going to kindergarten — it's a good time to learn good eating habits and get kids thinking about what they're eating," he said, "so that hopefully they grow up with a healthier lifestyle when they're going to school."
Gomez-Banrey said over the past 10 years, Countdown to Kindergarten has received about $70,000 in cash donations and $30,000 in in-kind donations, such as healthy snacks the group can distribute to families at events, from Whole Foods. The recent Monday donation, she said, was the first time in which Countdown to Kindergarten participated specifically in the 5% Day program.
Whole Foods plans to participate in a year-long partnership with Countdown to Kindergarten, Olivieri said.
"It makes sense to do something more this year, so we did," Olivieri said. "We'll be meeting with them over the next couple of months to figure out what we can do before the Countdown Kindergarten event at Boston Children's Museum that takes place next August."
Boston residents expressed mixed views over Whole Foods' contribution to Countdown to Kindergarten's programs, but they agreed Whole Foods products tend to be costly.
Michael Zastoupil, 26, of Jamaica Plain, said although Whole Foods sells produce at expensive prices, it proves itself to be a health-conscious business by paying attention to children's' well-being.
"I do feel like the prices are so high that it excludes a lot of different people. I don't shop there because I shop at Star Market, where it's cheaper," he said. "If they're a successful business, and they support that cause, obviously there's a need for better nutritional food at schools. So if they can support that, that's great."
However, Zina Kondratiuk, 63, also from Jamaica Plain, supported an opposing view toward the contribution due to an unsatisfactory shopping experience at her neighborhood Whole Foods.
"There was a controversy when Whole Foods came into the neighborhood, given the price range, and I believe they were supposed to adhere to products being on sale, but I find their prices outrageous," she said. "So, we call it 'Whole Paycheck.'"
Kondratiuk said Whole Foods' fruits and vegetables are not worthy of their prices, and the company should have contributed more to BPS to prove its support for the cause.
"It should be $500,000 a month or $200,000 a month," she said. "They should be providing free food for Boston Public Schools."
Noor Ibrahim, 32, of Brighton, said Whole Foods, although expensive, has quality products.
"It's great, but it's too expensive. If I were to go anywhere, and I want to find the best quality, it would be Whole Foods," she said. "As long as there's resources at the school to carry out the program, then I think that's awesome."