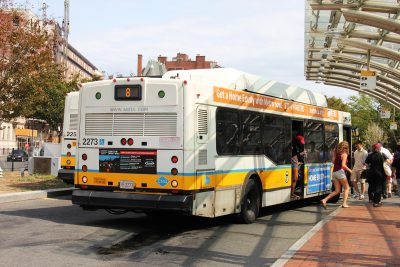 The Perkins School for the Blind, in collaboration with the Massachusetts Department of Transportation and the Massachusetts Bay Transportation Authority, launched BlindWays, an app that guides visually impaired people to nearby bus stops, according to a Tuesday press release.
The app aims to solve the "micronavigation problem," which is a challenge visually impaired people often face in navigating short distances, said Perkins product manager Luiza Aguiar.
"That is the challenge," Aguiar said. "We targeted and specifically identified bus stop signs as something we are going to use to help the visually impaired [gain] access to public transportation so they can get employment, go to school."
The app was funded by the Google.org grant Google Impact Challenge: Disabilities, which provided $750,000 to the project, the release stated.
The idea to create the iPhone-based app came after Joann Becker, who is a blind staffer for Perkins, expressed her frustration in accurately finding bus stops in November 2015, Aguiar said.
"Apparently she had often traversed to where she thought the bus stop was based on the GPS that she used on her smartphone, on Google Maps and Apple Maps," Aguiar said. "But it would often be too far away for the bus driver to identify her as waiting at the stop."
Aguiar said the app is highly reliant on users' contribution of location clues, and people with unimpaired eyesight can also benefit from the app.
Two groups from Boston University's First-Year Student Outreach Project contributed by adding clues on BlindWays' tester app earlier in September, Laurel Green, who led one of the FYSOP groups, wrote in an email.
"We went around to different bus stops in the Boston area, and you stand next to the pole with the bus stop sign," wrote Green, a sophomore in the College of Communication. "Once you do that, you look at the surroundings and map anything that could help the blind community who uses the app to locate the stop."
By pointing out adjacent benches or lamp posts, the app could serve a "great improvement for accessibility," Green wrote.
"While we were mapping, a blind man was saying that another struggle they have is when the routes change, there is nothing that notifies them," she wrote. "They end up on the wrong bus or route."
MBTA Acting General Manager Brian Shortsleeve said in the press release that BlindWays would provide more accessibility for its users.
"Being able to access public transportation reliably allows individuals with disabilities to live independently within their communities," Shortsleeve said. "The MBTA welcomes any opportunity to strengthen our ability to provide that service."
Boston residents said they support the app because it could improve accessibility to public transportation.
Sitting by a bus stop on Boylston Street at Copley Square, Caroline O'Sullivan, 23, of South End, pointed out the unavailability of disability services on the station's sidewalk.
"It's not really handicap accessible," O'Sullivan said. "Look at the street we're at right now. The bus would come up, but there's nowhere for people on wheelchairs or whatever. There are ways to lower the bus, but it's not great."
Ronnie Gaul, 42, of Dorchester, said BlindWays is a good way for the MBTA to help people with disabilities.
"If it helps people, then it's good," he said. "For the most part, [the MBTA] is reliable. There's not a lot of delays, mostly. They do a good job."
Karen Denison, 43, of South Boston, said it is good that the MBTA is improving its services for those with disabilities.
"The MBTA has made a good-faith effort to work with folks who might have trouble navigating the transportation system, and this is, to me, just another step in that direction," she said. "It's quite clear that some stations are up to code, and some stations are having problems being up to code."